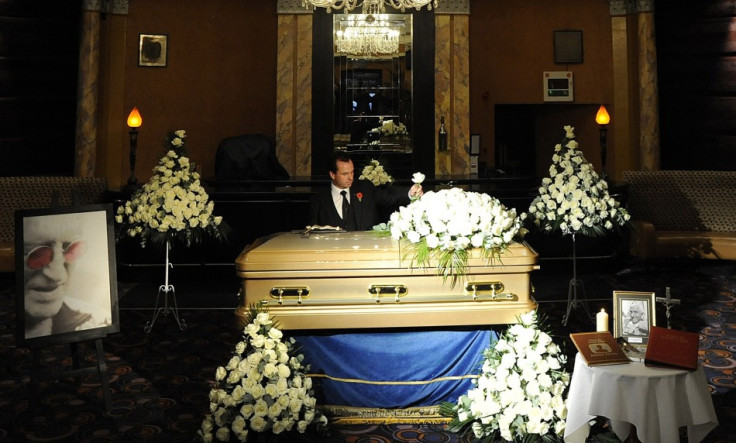 Fans of the broadcasting legend Sir Jimmy Savile have gathered to pay their respects at a Leeds hotel where his golden coffin will be displayed until his funeral.
The gold-coloured coffin of Sir Jimmy Savile, who dies at his home in Leeds on October 29, was taken to the Queen's Hotel in Leeds on Tuesday morning along a red carpet.
The former Jim'll Fix It presenter will be buried on Thursday. He will be buried at an angle of 45 degrees at a cemetery in Scarborough "to enable him to see the sea", as per Sir Jimmy's wishes.
The former broadcaster and DJ's coffin also features a crucific and is covered in white roses.
Memorabilia such as last cigar he ever smoked was placed in an ashtray on a table in front of the casket and pictures of Sir Jimmy, wearing his trademark round, pink-tinted glasses were on displat in the room.
Also on the table were Sir Jimmy's two This Is Your Life books, another crucifix, a candle and another photograph of the presenter.
A funeral service in the form of a Requiem Mass at the Roman Catholic St Anne's Cathedral will take place on Wednesday afternoon.
Sir Jimmy, who was the first ever presenter of Top of the Pops, was found dead at his flat in Roundhay, Leeds, just two days before his 85th birthday.
He will be buried with a Royal Marines medal and green beret and a Help for Heroes wristband. He will be wearing his own clothes.
The coffin will tour Scarborough on Thursday before his body is finally laid to rest after a three-day celebration of his life.
During his life, Sir Jimmy is thought to have raised over £40 million for charity.