Tributes are pouring in for Labour MP Jo Cox after she was killed by a man wielding a gun and knife. She was shot and repeatedly stabbed in her own constituency near Leeds and was pronounced dead just over 48 minutes later by a doctor working with a paramedic crew trying to save her life.
The Union flag is flying at half-mast over the Houses of Parliament, Downing Street and Buckingham Palace, while in Birstall hundreds of people attended a vigil at a local church. Many people, some weeping, laid flowers outside the Houses of Parliament.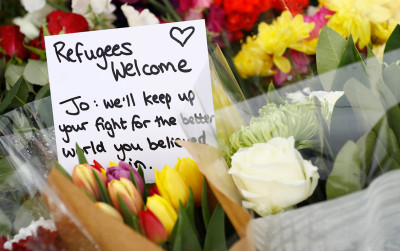 Her husband Brendan said: "Jo believed in a better world and she fought for it every day of her life with an energy and a zest for life that would exhaust most people."
Colleagues expressed their shock and disbelief at the death of Cox, a Cambridge University graduate who had spent a decade working for aid agency Oxfam and was known for her work on women's issues. "We've lost a wonderful woman, we've lost a wonderful member of parliament, but our democracy will go on," Labour leader Jeremy Corbyn said in a televised statement. "As we mourn her memory, we'll work in her memory to achieve that better world she spent her life trying to achieve."
Prime Minister David Cameron said the killing of Cox was a tragedy. "We have lost a great star," said Cameron. "She was a great campaigning MP with huge compassion, with a big heart. It is dreadful, dreadful news."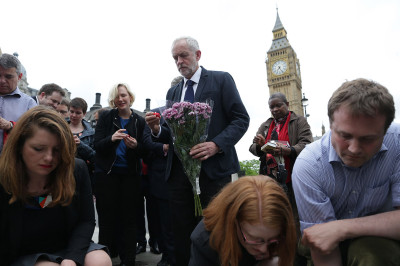 Jo Cox fought against poverty and discrimination in developing countries, worked in Parliament for a solution to the civil war in Syria and campaigned for Britain to remain in the European Union. In charity work and politics, she took up causes across the globe, from some of the world's most dangerous countries to her home constituency in Yorkshire.