Joan Lee, the wife of legendary comic creator Stan Lee died at the age of 93 on 6 July in Los Angeles.
"I can confirm the sad news that Joan Lee passed away this morning quietly and surrounded by her family," a spokesperson for the family said. "The family ask that you please give them time to grieve and respect their privacy during this difficult time."
According to reports, Joan had been admitted to a hospital earlier this week after suffering a stroke.
Joan, a former British hat model was married to a WWII American soldier but the relationship did not turn out well. It was during this time that she met Lee who was supposed to take her friend on a blind date.
"When I was young, there was one girl I drew; one body and face and hair. It was my idea of what a girl should be. The perfect woman. And when I got out of the Army, somebody, a cousin of mine, knew a model, a hat model at a place called Laden Hats. He said, 'Stan, there's this really pretty girl named Betty. I think you'd like her. She might like you. Why don't you go over and ask her to lunch.' Blah, blah, blah," Lee told The Hollywood Reporter in 2016.
"So I went up to this place. Betty didn't answer the door. But Joan answered, and she was the head model. I took one look at her — and she was the girl I had been drawing all my life. And then I heard the English accent. And I'm a nut for English accents! She said, 'May I help you?' And I took a look at her, and I think I said something crazy like, 'I love you.' I don't remember exactly. But anyway, I took her to lunch. I never met Betty, the other girl. I think I proposed to [Joan] at lunch."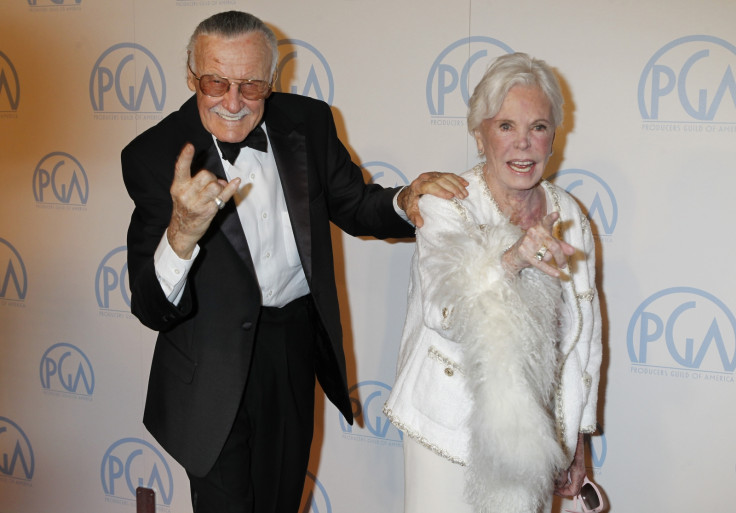 On 5 December, 1947, a Nevada judge granted her a divorce and married her and Stan an hour later. The two stayed together for over 69 years and had two children.
While her husband conquered the superhero world, Joan did voice work for the character of Miss Forbes in Fantastic Four and Madame Web in Spider-Man both of which were part of the 1990's animated Marvel shows.
She made a cameo appearance in 2016's X-Men: Apocalypse and published a romance fiction titled The Pleasure Palace in 1987.
Following the announcement of her death, Marvel Comics released a statement mourning the loss. "We are so saddened to hear about the loss of Joan Lee. We lost a member of the Marvel family today and our thoughts and prayers go out to Stan and his daughter Joan in this difficult time."
Other members of the comic universe also took to Twitter to express their sadness and wish the Lee family their condolences.