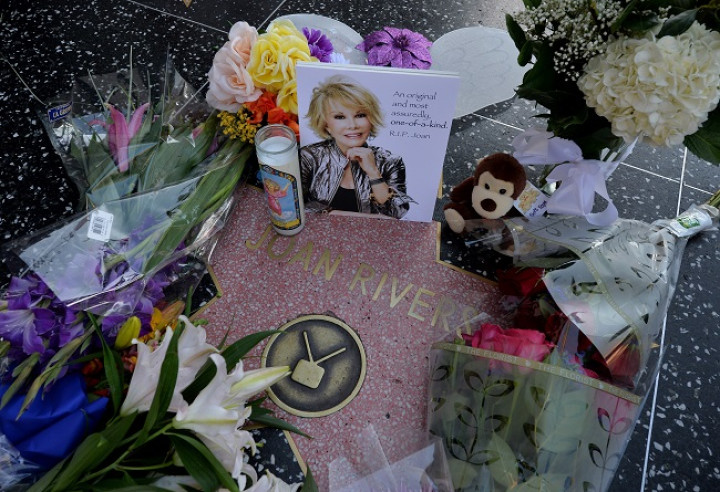 Joan Rivers died after her own doctor intervened during a routine medical procedure and performed a surprise biopsy on her vocal cords at his office, a source has claimed.
The US star was only meant to be booked in for an endoscopy, "a diagnostic procedure to see why her voice had gotten raspy", according to the New York Daily News.
But she ended up having an unplanned biopsy by her personal doctor at the Yorkville Endoscopy, which then caused her vocal chords to seize up and restrict her air supply, which made her suffer a cardiac and respiratory arrest.
"A biopsy like that should only be done in a hospital setting," the source told the Daily News.
"If she had been in a hospital when it happened, she might have been okay."
The doctor, who has not yet been identified, but is known as an ear, nose and throat specialist, asked to use the Upper State's clinic instruments to perform the biopsy when another doctor noticed "something" on Rivers' vocal chords.
"He asked and they let him," the source said. "A huge no-no".
A representative from Rivers team declined to comment and a spokeswoman for Yorkville Endoscopy refused to make a statement due to patient confidentiality.
Rivers went in for surgery at the clinic on the morning of 28 August and was transferred to Mount Sinai Hospital later after the procedure went wrong. Reports said she had already been put on life support when she arrived at the hospital.
The New York Department of Health is reportedly investigating the Manhattan clinic following the TV presenter and comedian's death. Her star-studded funeral was held at Temple Emanu-El, in New York.
Rivers had revealed she was suffering from arrhythmia - a condition the causes the heart to beat out of sync - during a 1985 interview on Good Morning America, it emerged last week.
"All of a sudden you'll be on stage and hear 'tha-thump'," she told former co-host Joan Lunden, striking her chest with her hand for emphasis. "It scares the hell out of me."
Before going in for surgery, Rivers reportedly got a clean bill of health from her doctors and appeared to be in good physical shape.