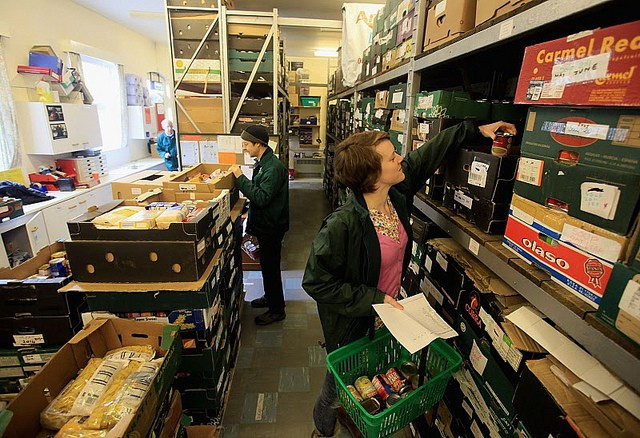 The Department for Work and Pensions are advising job centres to signpost people to food banks despite repeated denials from ministers they are not a part of the welfare system.
Ministers have previously refuted that food banks are part of the welfare system arguing that there are other means of supporting people.
But a new document, entitled Food bank Referral Service – High Level Process, obtained by the Guardian under the Freedom of Information Act show Jobcentre Plus staff are following guidelines on how to send people to food banks.
It outlines the criteria claimants have to meet in order to be referred by jobcentres. These include whether they are subject to benefit changes, benefit payment delays, if a benefit advance has been refused or an advance is not enough to meet their needs.
Jobcentres that choose to offer a food bank referral "service" are told to do a health and safety assessment before sending people to a particular charity.
Jobcentre Plus staff also have to fill in a form with the claimant's details as part of the process but are told not to describe this as a 'food voucher', as this would contradict the argument that they are not part of the welfare system.
Tory Welfare Minister Lord Freud insisted last year that "food banks are absolutely not part of our welfare system".
"Jobcentre Plus offices do not issue food vouchers," he denied.
"Some Jobcentre Plus offices have an agreement with their local food bank for referrals, but some simply signpost claimants to a variety of available local provision, including by local authorities, depending on their immediate needs. We gave Jobcentre Plus district managers the freedom to make local links with food banks."
The Trussell Trust and the DWP agreed in 2011 that jobcentre staff should be able to send claimants to food banks. However, ministers continued to insist this only amounted to "signposting" in the right direction.
Chris Mould, the executive chairman of the Trussell Trust, said despite the guidance, jobcentre referrals to foodbanks varied across the country.
Mould said: "The debate about whether food banks are part of the welfare state is a bit of a red herring. The real issue is about why people go hungry."
Food Banks in the South East