Swansea City claim Liverpool have broken a written agreement between the two the clubs upon the departure of Brendan Rodgers over interest in midfielder Joe Allen.
The 21 year old has been linked with a move to The Reds since the arrival of Rodgers on Merseyside.
However, The Swans say an agreement between Rodgers and the club upon his departure stating he wouldn't attempt to sign any of their players has been broken, while the Welsh-based side have confirmed other clubs have enquired as to Allen's availability.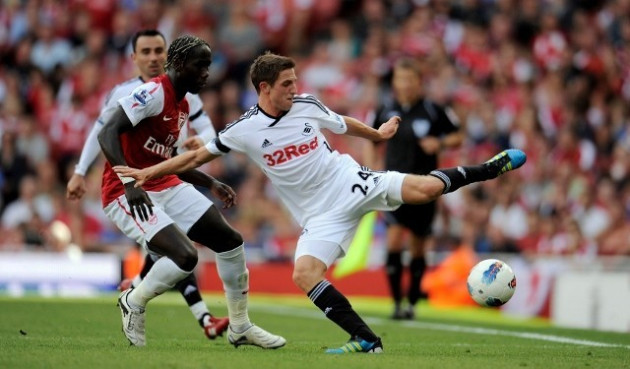 "Swansea City can confirm that Liverpool have expressed an interest in Joe Allen, despite a written agreement with Liverpool not to approach any players within the 12-month period of former manager Brendan Rodgers leaving for Anfield," a Liberty Stadium spokesman said.
"There has also been interest from other clubs regarding his possible availability and the club is due to speak to Joe, as originally planned, about the situation when he returns from GB duty.
"The club is not prepared to release any details on whether any formal bids have been made at this stage or details of Joe's contract, which are private and confidential. The club is extremely disappointed that speculation regarding certain aspects of his contract have been released to the media by parties outside the club.
"Fortunately the club is in a financial position where it does not need to sell any of its players and will continue to work in the best interests of its supporters, who are our priority, and the club to provide new manager Michael Laudrup with the best opportunity to be successful in the forthcoming Premier League campaign."
In Swansea's first ever season in the Premier League, Allen helped the club to an 11th place finish under Rodgers, who succeeded Kenny Dalglish as Liverpool manager in June.
Rodgers has since signed former Swans striker Fabio Borini, and has taken a fancy to another of his former players Allen, who will represent Team GB during the Olympic football competition this summer.
Former Wales striker Ian Walsh says he expects Allen to eventually join The Reds.
"It seems at this stage it could be inevitable that Joe Allen will leave Swansea for Liverpool," Walsh said.
"It's a great opportunity for him but it's not the news that the Swans fans would have liked.
"To think that he's a home-grown talent, talking in the realms of £10-15m for a player that's played one season in the Premier League. it's a vast amount of money
"I'm not sure that Swansea, in the long term, could afford to turn that sort of money down."