They say a week is a long time in football, so for Joe Hart, the Manchester City and England goalkeeper, the last six weeks must surely have felt like a lifetime.
During City's 1-1 draw with Borussia Dortmund, Hart produced arguably the finest performance of his career to date, keeping the German champions from the door on numerous occasions to eventually help secure a point which even now keeps the club's hopes of qualifying for the Champions League knock-out phase alive.
The England No.1 was heralded as the best goalkeeper in the world by international colleague Wayne Rooney, and sparked debate as to whether indeed Hart was now among the world's elite.
But such a heralded performance has been followed by a spell of form which has tempered that argument and worked to damage his seemingly unwavering reputation as the Premier League's best stopper.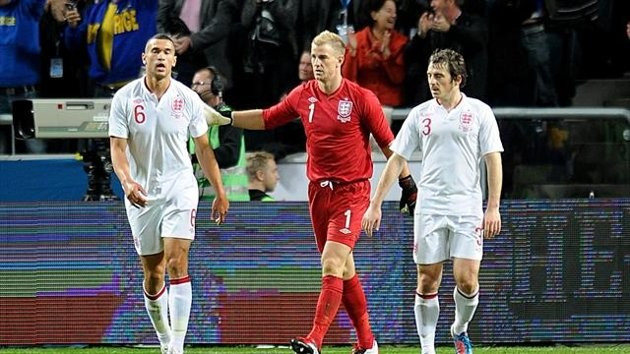 Given his form since taking the No.1 jersey for both club and country, Hart's error of judgement against Poland, when he got no-where near Ludovic Obraniak's corner as Kamil Glik's headed home, was deemed an uncharacteristic mistake during an otherwise successful season.
Hart is now a successive winner of the Premier League golden glove award, keeping 17 clean sheets last season in claiming the title, but this term had seen a shaky City defence undermine the 25 year old's brilliance between the sticks.
However, his mistake against Poland was the first time Hart had contributed to his side's downfall, and it has since sparked an uncertain run of form. On Sunday, Steven Caulker's innocuous header bounced into the ground and rebounded off the chest of Hart and into the corner and temporarily at least jeopardised City's hopes of keeping on the coattails of table toppers Manchester United.
While his blunders at club level were being masked by late goals, Hart's problems were exposed to their fullest in mid-week as Sweden came from behind to secure a late win over England.
Little blame can be attached to Hart for either of Zlatan Ibrahimovic's first two goals, a toe-poked effort from eight yards and a firmly struck volley which ricocheted off the stopper and levelled the game, but the decisive double in the latter stages was majorly of his own making.
The Paris St Germain striker's free-kick flew past Hart with six minutes left, with the England goalkeeper slow to get down to the effort, while his hapless headed clearance allowed Ibrahimovic the opportunity to smash the ball into an empty net.
You may not be able to compensate for the brilliance of Ibrahimovic's fourth, but there is no missing Hart's wayward header which even against lesser opposition would have caused problems.
Hart's performances of late are not a realistic display of his ability, nor are they an indication of a decline, but they do work to temper expectations and stall comparisons with Europe's elite.
Roy Keane believes Hart has become cocky after being lavished with such praise, but the reality is the City keeper takes genuine pride in the performance of himself and the team. Rather than the perception being that Hart is speaking out of turn, and therefore his decision making is being compromised, the former Shrewsburg Town man is simply enduring a poor patch of form.
It's the first time that Hart has encountered a period of such difficulty, and like any sportsman in the face of adversity, how he recovers from this current spell that will be the making of his career.