RAF veteran Christopher Fields, 37, was battered to death by Joe Hasledine after the Stockport thug mistakenly accused him of being responsible for having his pet Staffordshire bull terrier dog put down.
In an alcohol and cocaine-fuelled fury, Hasledine, 24, punched, kicked, and stamped on Fields over a sustained period on 12 December 2014.
He even left the victim's home address on Old Chapel Street, Stockport, for a short time before returning to continue the vicious attack.
Incredibly, Greater Manchester Police were called to the address during the first bought of violence where they discovered Fields, who served in Iraq and Afghanistan, had sustained minor facial injuries.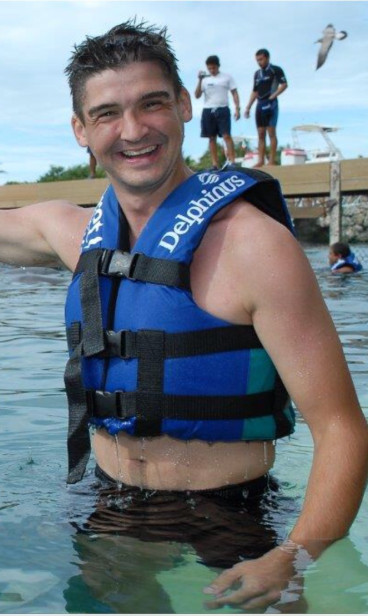 Officers arranged for a broken window at the property to be fixed and left. It was only when the window fitter turned up two hours later that he discovered Fields slumped on a sofa and bleeding heavily.
Police were then called for a second time before Fields was rushed to Stepping Hill hospital and later transferred to Salford Royal Hospital, where he died as a result of his injuries on 21 December, 2014.
An investigation by the Independent Police Complaints Commission into this case is currently on going.
Hasledine was on Monday (8 June) sentenced at Manchester Crown Court to life imprisonment and told he will serve at least 16 and a half years.
Handing down the sentence, Judge David Stockdale QC told Hasledine: "You beat him repeatedly, punching kicking and stamping on him.
"As you did so you made reference to your dog. It was clear that was your motive for the attack. Your motive was revenge, pure and simple."
Chris Fields' family issued the following tribute:
"Chris was the greatest son, brother and a best friend to many. He was a fun-loving, charming man, with his whole life ahead of him.
"He was taken from us in December in completely unnecessary circumstances. We cannot express how devastated we are that his life has been stolen from him. We miss him every minute of every day.
"Today his killer has been sentenced, and justice has been served. We can try to repair our heartache, although no matter how long the sentence is it will not bring Chris back or make our loss any easier.
"We need to attempt to move on and hopefully today will now provide closure for our pain over the last seven months, however, we will never forget Chris or the many memories he has given us."