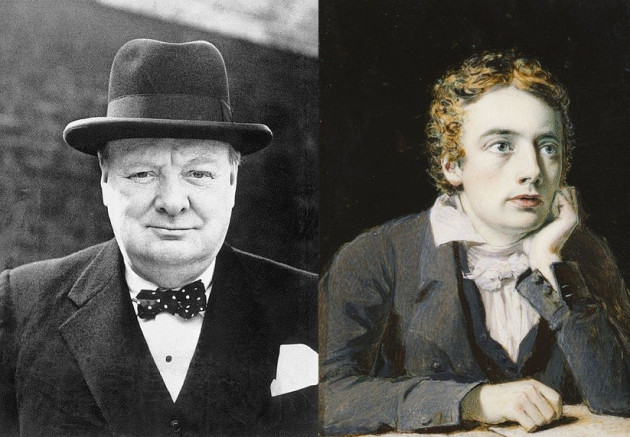 John Keats' last handwritten poem has smashed its Bonhams estimate and sold for over £180,000 at auction.
Another highlight of the Roy Davids poetry sale in London was the only poem Winston Churchill ever wrote.
Bonhams said the sale was the "finest collection of poetry ever come to auction" and was the accumulation of 40 years of collection by the poet and scholar.
The Keats manuscript was taken from the draft of his well-known early poem 'I stood tiptoe on a little hill'. It consists of 33 lines scribbled on the front and back of the paper - showing how the poet changed the piece as he went.
Before its sale, Bonhams said it is the only poetical manuscript by Keats ever likely to be available for collectors, and placed its estimate at between £40,000 and £45,000.
It eventually sold for over four times its top estimate, for £181,250.
It had belonged to Keats' friend Charles Cowden Clarke, who cut the poem into 13 pieces and distributed them to friends. Of the other 12 pieces, four have never been found, six are in institutions and two were last heard of in 1929.
Keats began work on the poem in Margate in July, 1816, and finished in November that year. It is the opening piece from the 1817 volume entitled Poems.
Also sold at auction was the only poem ever to have been written by Winston Churchill. The poem, named Our Modern Watchwords, is 40 lines in 10 stanzas written in blue crayon and sold for £13,750.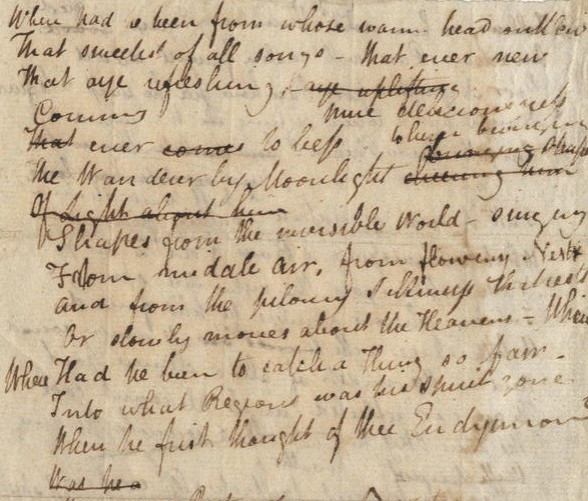 Lines include: "The shadow falls along the shore, The search lights twinkle on the sea..."
As a child Churchill had won a prize for poetry whilst studying at Harrow.
The auctioned poem is thought to have been written before 1901 because in it, Churchill refers to the Queen & Karochaw - he joined the 4th Hussars in 1985, when Queen Victoria was on the throne.
Churchill's poem had been estimated to fetch between £10,000 and £15,000.
Other pieces sold in the auction were WH Auden's Stop All the Clocks, which featured in the 1994 film Four Weddings and a Funeral, and the handwritten draft of Sir John Betjeman's The Arrest of Oscar Wilde at the Cadogan Hotel.
Auden's autographed revised manuscript of the poem sold for £23,750. Journy of the Magi, a typed poem by TS Eliot with handwritten edits, sold for £44,450.
In an essay before the sale, Davids said: "Looking at this collection it would perhaps be possible to think that poetical manuscripts are abundantly available for collectors. But I have been collecting them for forty years and have swept up all that I could at any time afford (often even when, sensibly, I should not have).
"Of all the areas in which I have collected, none has maintained its fascination as long as poetical manuscripts. To part with it, with them, will seem incomprehensible to many.
"But having collected about everything that I could afford, as well as much that I should not have afforded, I feel I have achieved something so remarkable that I should share it with others and to register it in a catalogue."