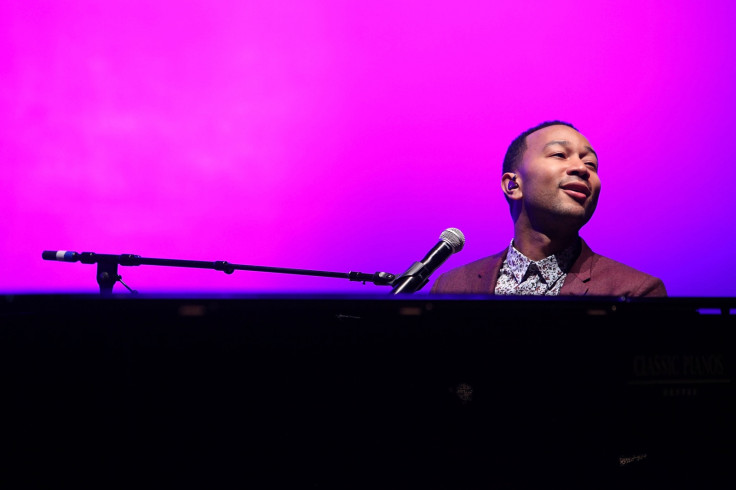 Soul singer John Legend downplays the theatrics, making it all about his music for his sold-out, debut show at London's O2 Arena.
You'd think someone who self-adopted a stage name featuring the word "legend" would have a slight air of arrogance but that is certainly not the case here.
Everything about Legend is unassuming, even the sets that provided his backdrop for his performance, just a single screen and a nine-piece backing band, and the non-flashy amount of outfit-changes (of which there was only one). A quality that makes the 36-year-old immediately endearing on stage.
But one thing that has no place being unassuming is Legend's voice, which is without question the real star here as it overpowers every attempt at showmanship that he offers.
He opened with one of his more energetic tracks, Made To Love and the pounds of synthesised drums and exaggerated echo effects certainly got the audience amped up about what's was store for the rest of the night. It's was faultless choice for the first song, but it can't help be thought that the vibe in the [incredibly large] room would have been even more charged if his intended supporting act could have performed.
Jess Glynne was forced to pull out of the show after having to have vocal cord surgery just a few weeks ago, and while none of this is detriment to Legend as a performer, her lively dance tracks certainly would have helped get the relaxed crowd going a lot quicker before the arrival of the main star.
Legend got into full swing a little way into the show, kick-starting the reminiscent segment of his show with Let's Get Lifted, which pleased fans, moving into even more old-school, r'n'b tracks from his career. Surprisingly, though, the atmosphere seemed to dampen around three-quarters of the way through when he appeared to get lost among a couple of mismatched covers and filler tracks from his past albums.
Given the fact his first album debuted over a decade ago, in 2004, it was evident as the vast O2 Arena filled that most of Legend's fans appeared older than 35. A fact made even more apparent as the crowd started cheering when he began tinkling those iconic opening notes to Ordinary People on his grand piano, centre stage, and Legend certainly catered to those more long-standing fans as he dedicated most of his show to his tracks that pre-date 2005.
This is the first time he has performed at what is arguably London's most prominent venue and a little way into the show, this became glaringly clear. Not only because he straight-out told the audience but that while his songs are impressive, when playing a venue of this size, you need to give a little extra when it comes to physical performance and charisma. Why do you think Adele has famously refused to perform at the O2 Arena on a couple of occasions? Sometimes, an incredible voice just isn't enough.
Additionally, it would be fair to say a large number of the attendees were probably encouraged to do so from their love of his hugely successful track and first number one single despite years of being in the business, All Of Me. If this was the case, then it would make sense to conclude that the majority of the ticket-holders were most familiar with his more recent songs
In all, Legend performed 24 tracks from various albums spanning his whole career, of which only five were from his most recent album, Love In The Future – a ratio that polarised audience members and obviously isolated his more recent fans. But in his defence, the whole tour is simply titled "John Legend" so it was clear from the very start that this particular show was going to be more about his whole discography as an artist rather than promoting a new album. However, it would have been nice to hear some more of his more modern songs.
As expected, those lifted from his later albums went down as crowd favourites – Green Light in particular got the audience on their feet as suave Legend slunk around the stage.
It is without question that Legend thoroughly deserves the esteemed status he seems to be carving himself as of late, his voice and style are unique and brilliant enough to set him above the crowded music industry, which is abundant with auto-tune and heavy dance beats.
His songs perfectly embody a sound that is so lost among artists now – a classic, soulful, silky voice paired with wonderfully performed songs and just a little bit of a hip-shake. However, when it comes to a show, you can't help but think that his insane but understated talent would be better suited remaining in smaller venues.