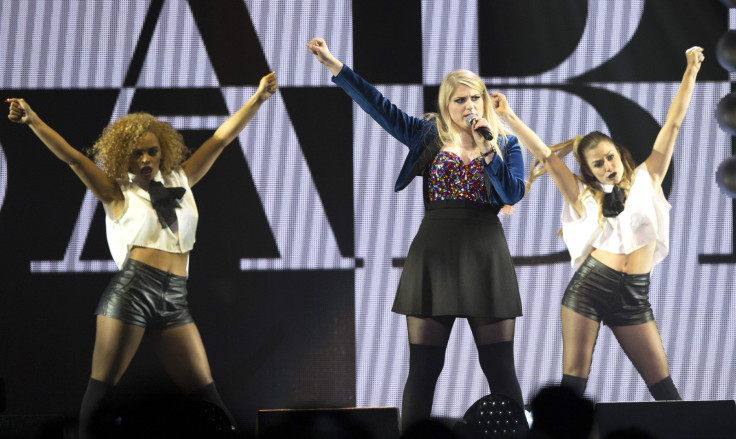 3
US pop star Meghan Trainor brought her positive attitude and uplifting songs to London's Shepherd's Bush Empire during the latest stop on her sold-out UK tour.
Arriving on stage to a big number from her live band and hundreds of screaming adolescent fans, the Lips Are Movin singer did not need much of a warm-up and seamlessly jumped into a glitzy rendition of her latest single Dear Future Husband.
Trainor's debut single All About That Bass, famous for championing body confidence, was proof in itself that her major selling point is appearing relatable to her young admiring fans and she certainly succeeded in translating that message for the stage.
Asking the audience to "raise [their] hands if [they are] different" and "beautiful" seemed like a routine 'bit' that many singers have done countless times before her, but still, it reinforced Trainor's female empowerment stance and her fans lapped it up.
While mostly mindful of her teeny-bopper fans, there were the occasional moments when the 21-year-old was treading the line and stepped into Rihanna territory.
Shouting "whine ya waist" and "get down low" as she gyrated to sounds of soca music from the Caribbean with her dancers may have been a little too advanced for the pre-adolescent concert-goers, but Trainor has a talent of making the most racy dance moves seem innocent.
The island sounds should be expected though as the singer recently revealed that she grew up listening to soca music, partly because she has a Trinidadian uncle. You're welcome for the trivia!
The Nashville-native reeled out her dance moves again later in the show for a cover of Mark Ronson and Bruno Mars' overplayed number one hit Uptown Funk. Frankly, Trainor is not the best dancer and the choreographed routine was a little stiff but you can't blame a girl for trying.
In actuality, it is these endearing imperfections that make the singer more appealing to the masses. To those who idolise her, she is like a fun, loveable older sister who doles out advice through her songs.
Trainor clearly wants to avoid the 'one-trick pony' label that so many other pop stars are tagged with these days. Proving that her talents extend beyond holding a few notes, Trainor played the guitar for an acoustic version of her country-tinged track Title, also the name of her number one album.
Of course, the best was saved until last with Lips Are Movin and All About That Bass rounding off the show for the grand finale with plenty of energy and even more confetti tumbling from the ceiling.
As a relative newcomer on her first ever headline tour, Trainor's on-stage presence was surprisingly bigger than the Shepherd's Bush Empire stage allowed.
Trainor embodies everything that has always been good about pop – infectious, songs, a strong message that fans can latch onto – in her case female empowerment – big production and a likeable persona. It wouldn't be hard to believe if she is selling out arenas in a year's time.