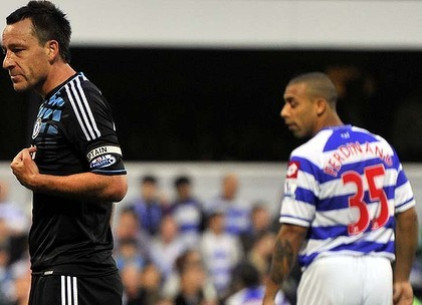 Chelsea and England footballer John Terry racially abused QPR defender Anton Ferdinand in response to taunts about an alleged affair he had, a court has heard.
Terry, 31, is charged with a racially aggravated public offence for allegedly making an offensive comment to Ferdinand when the two teams played at Loftus Road on 23 October, 2011. Terry denies the accusations.
The court heard how the two had confronted each other during the game after Ferdinand knocked Terry to the ground. Terry made a hand gesture implying that Ferdinand had bad breath.
Ferdinand is then accused of shouting to Terry during the game: "Oi! You s******d your mate's missus", and made crude gestures towards Terry. He was referring to accusations that Terry had an affair with the girlfriend of former Chelsea player Wayne Bridge.
It is alleged Terry responded to Ferdinand's taunts with "F*****g k******d" and "f*****g black c**t".
Terry told the court he was only sarcastically repeating the words Ferdinand had wrongly accused him of saying during the game that was broadcast to millions.
During the trial at Westminster magistrates court, Ferdinand said he did not think any racist language had been used.
He told the court it was only after his girlfriend showed him a YouTube clip where Terry is alleged to been seen mouthing the words did Ferdinand become convinced.
Ferdinand said: "I would have been obviously very hurt and I probably wouldn't have reacted at the time because, being a professional, you can't do that.
"I probably would have let the officials know what happened and dealt with it after the game. When someone brings your colour into it, it takes it to another level and it's very hurtful."
Opening the prosecution, Duncan Penny said: "The Crown's case is that the words were abusive and insulting in a straightforward sense.
"They were uttered by the defendant in response to goading by Mr Ferdinand on the issue of his extramarital affair, rather than by way of exaggerated and instant querying of a perceived false allegation."
Two TV clips and footage of the incident not previously broadcast were shown to the court.
Terry claimed Ferdinand had shouted a "number of abusive comments" towards him and made "at least one obscene gesture with his hand, a pumping action clearly directed at me and no other Chelsea player".
"My use of these words were intended to make it plain I had not called him a black c**t," Terry said in police interviews read out to the court.
The trial was delayed by district judge Howard Riddle until after Euro 2012 when he heard that a number of Chelsea players would not be able to appear as witnesses until after the football season.
The trial continues.