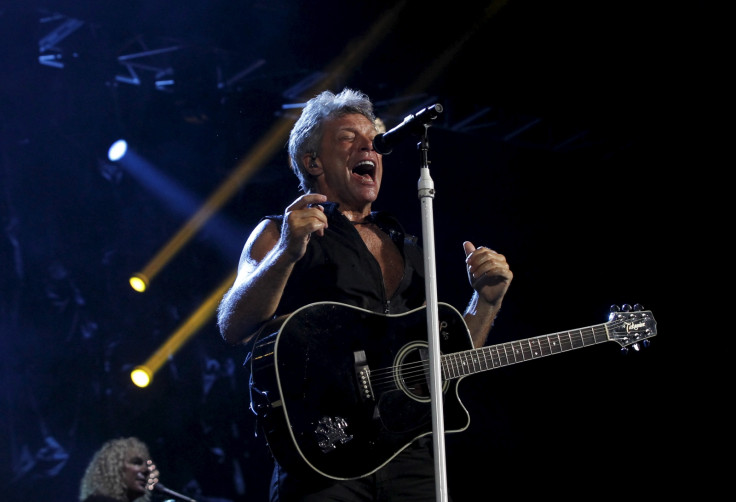 Jon Bon Jovi has revealed that the last three years were the worst years of his life following guitarist Richie Sambora's sudden departure from the band after 30 years, and the bitter row the 54-year-old singer was involved in with his record label.
"There was a lot of darkness really. I was going through a difficult period and it felt like the weight of the world was on my shoulders," the singer was quoted as saying by The Mirror.
However, Jon Bon Jovi was able to cope with the tough times with the support of his wife Dorothea.
"It was a very, very difficult time that I haven't fully rebounded from yet but my wife has been phenomenal. Without her, I am not sure how I would have coped," he said.
The couple met each other during a history exam when he asked her for the answer to a question. They were just 18 years old then. They married in Las Vegas and the rest is history. The couple share four children — Stephanie, 23, Jesse, 21, Jacob, 14, and Romeo, 12.
"She is very wise. She gave me four great kids and I didn't f**k up. I did it right the first time and she is great and undyingly loyal. If I am jokingly made the poster boy for rock and roll marriage, I will accept it but Bono has been married just as long," he said.
Jon Bon Jovi also disclosed that he had a breakdown soon after the release of the album Slippery When Wet coupled with back-to-back tours. He had contemplated jumping out of a moving car when he went to see a psychologist in 1991.
"I am not ready to share it in full but it was not pretty," he said. "But I am working towards it. It was similar to that period in retrospect. I found acting at that time which gave me a release. There was no release this time around but there were just as much difficulties."
When asked if his wife is worried when he is on the road, Bon Jovi said: "I have been around far too long for her to be worried about me on tour."
"The greatest thing is when you trust each other to say: 'you wanna get drunk? Great here's the bottle'...or 'you want to crash the car? Crash the car but be home by six.' When you have that kind of independence and trust, nothing really matters. Independence. That's true adoration. The rest of it is a cliché."
His band has sold 130 million albums and performed more than 2,700 concerts in more than 50 countries. Some of their hit songs include It's My Life, Always, Livin' On a Prayer, Bed Of Roses among other