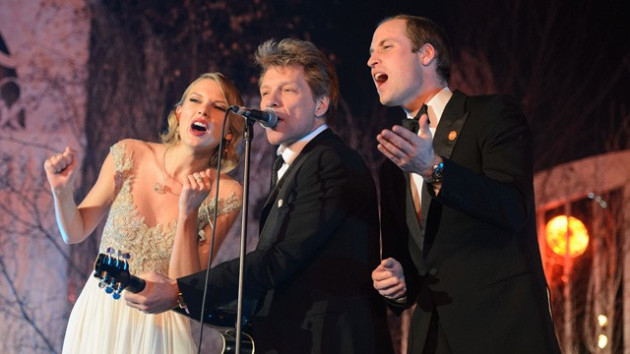 Jon Bon Jovi has hinted that he could soon be teaming up with Prince William to record a charity single.
The 51-year-old rocker, who was recently joined on stage by the Kate Middleton's husband and Taylor Swift during his impromptu performance of Livin' on a Prayer at a charity gala, said that he was impressed with the young royal's vocals.
"His Royal Highness has 'it'," Bon Jovi said. "If he ever wants to give up his day job, we could do a charity single for Centre Point and the Jon Bon Jovi Soul Foundation.
"He was a great sport and I can assure you the man can sing."
The Duke of Cambridge stunned guests when he took to the stage to deliver the rousing chorus to Bon Jovi's 1980s hit during at the star-studded event organised to raise funds for Centrepoint. He has been patron of the homeless charity since 2005.
Bon Jovi had urged the Queen's grandson to get involved in the festivities by saying, "Just maybe, the karaoke kid could come up and sing along [a reference to the fact that William sung Livin' On A Prayer at his cousin Zara's wedding?]
"You don't have to do it your Majesty, I understand, I can't fly helicopters or ride motorcycles like you do. That's cool, that's cool. A couple of words..."
Swift,23, who also performed in front of the 600 guests, who included British rapper Tinie Tempah, singer-songwriter James Blunt and the actor Colin Firth, revealed that the down-to-earth Prince had left a good impression.
"He was funny," Swift said of his performance. "I was really happy he was funny."