Amid Andy Murray's success at the Olympic Games and US Open, it's been no surprise to seen Jonny Marray's remarkable breakthrough emphatically overshadowed in 2012.
Britain's first Wimbledon male doubles champion since 1936 will share the stage with Murray this week in the ATP World Tour Finals, and while public appeal is dramatically reduced, his position at the season ending event at Greenwich's O2 Arena is unquestionable.
If the limp atmosphere on day one during Murray's singles victory over Tomas Berdych is any indication, then the fair-weather tennis fan will be enthralled by the format of the doubles competition while traditionalists will feel it undermines an already much maligned game.
Partnering his victorious colleague from the All-England Club in Frederik Nielsen, the pair took on India duo Mahesh Bhupathi and Rohan Bopanna in their first round-robin match, seasoned campaigners when compared to the pair who played together just once this year before claiming a grand slam title.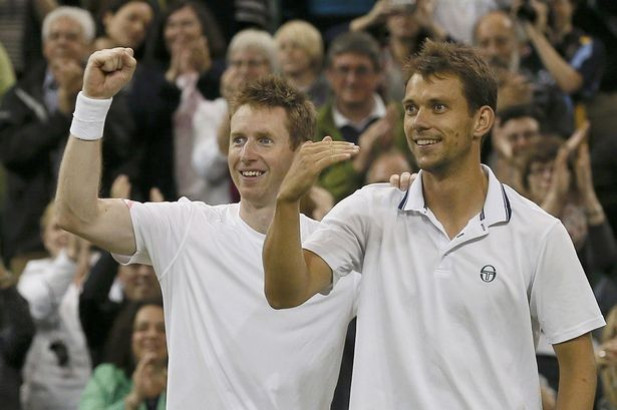 While the Asian pair created the only break point opportunity in the first nine games, with Bhupathi netting a backhand volley, Nielsen and Marray took their opportunity at the first time of asking taking the first set 6-4; a performance they will surely have to repeat should they wish to extend their relationship with the season's closing event.
Both pairs reverted to type in the second set, with break points again few and far between. The fair-weather fans, whose strawberrys and cream might have been tasting slightly sour by this point, might have had good reason to give up altogether, but in the 12th game finally something came to shout about.
After twice contriving to throw away a 0-30 advantage earlier in the set, Marray and Nielsen created a match point, but the Merseyside-born player's return only found the tape.
A non-event of a tiebreak followed, one that would have infuriated the purists as well as the occasional tennis lovers, with Bhupathi and Bappana cruising, as the momentum appeared to firmly switch.
The champions tiebreak then produced the entertainment, and the thrills the half-full arena had waited patiently for. The Indian duo appeared to have an unassailable lead at 6-1, but a resurgence from the Wimbledon victors set up a cracking finale.
An epic exchange saw Marray's overhead, albeit unnatural, volley outfox Bhupathi, who missed the tramlines. Marray and Nielsen, surely an adopted Brit at this stage, served out the remainder and suddenly their debut at the World Tour Finals had turned into another fairytale.
Should they create headlines akin to those of Britain's singles No.1, then they're sure to have a week to remember.