The Jordanian government has said it needs proof from the Islamic State (Isis) that its air force pilot Muath al-Kaseasbeh is still alive before any prisoner swap can take place.
The IS militants have issued a 24 hour deadline - set to run out within an hour - demanding that Jordan release Sajida al-Rishawi, an Iraqi woman facing the death penalty for the 2005 bombings that killed 60 people at hotels in the Hashemite kingdom, or al-Kaseasbeh will be executed.
"We want to see a proof of life of the Jordanian pilot and then we can talk about the exchange between Sajida al-Rishawi and the Jordanian pilot," Jordanian government spokesman Mohammed al-Momani said.
He also confirmed that the al-Qaeda prisoner was still in the country's jail.
Jordan has said it is ready to agree a prisoner swap "if the Jordanian pilot Lieutenant Muath al-Kasaesbeh was released and his life spared", Momani said.
Isis has only offered to free Japanese reporter Kenji Goto in return for the release of al-Rishawi, his wife Rinko confirmed.
In an earlier audio recording, a voice believed to be that of Goto, said IS would kill the Jordanian pilot if Rishawi was not handed over before sunset.
"If Sajida al-Rishawi is not ready for exchange for my life at the Turkish border by Thursday sunset, 29th of January, Mosul time, the Jordanian pilot Moaz al-Kasasbeh will be killed immediately," Goto allegedly said in the audio message.
Goto, an experienced freelance war correspondent, appeared kneeling in the desert in an orange jumpsuit alongside Haruna Yukawa, a 45-year-old aspiring military contractor, in a video released by IS last week.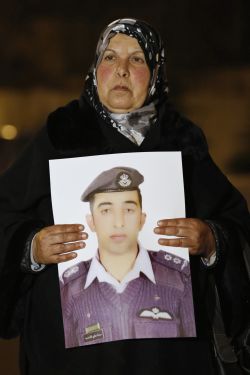 The terror group initially demanded a $200m (£132m) ransom for the two men's lives.
A still photo of Goto holding what appeared to be a picture of Yukawa's beheaded body was issued a few days later, in a video used by IS to change its demand for the life of the journalist, proposing a prisoner swap.
A third clip showing once again a still image of the reporter, this time holding a picture of captive Jordanian pilot fighter pilot al-Kaseasbeh, with a voice-over issuing a 24 hour negotiation deadline, was released on 27 January.
"I've been told this is my last message, and I've also been told that the barrier obstructing my freedom is just the Jordanian government delaying the handover of Sajida [al-Rishawi]," says a voice-over that appears to be that of Goto.
"Time is running very short. It is me for her. What seems so difficult to understand. She's been a prisoner for a decade and I've only been a prisoner for a few months," he continues, telling the Japanese government to put pressure on Jordan.
Japan's Prime Minister Shinzo Abe expressed outrage at the footage and said his government was "seeking help from the Jordanian government in securing the early release of Mr Goto".