Journalists freed by Indonesia say Foreign Office treated them like 'common criminals'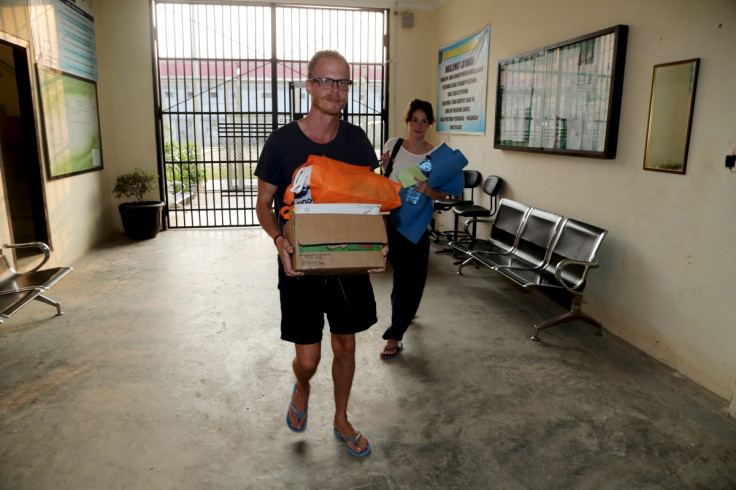 Freed after five months in an Indonesian prison two British journalists now back home came down heavily upon the Foreign Office for not coming to their rescue. Documentary film-makers Rebecca Prosser, 31, and Neil Bonner, 32, said the British government treated them like criminals.
"The FCO need to figure out how they protect journalists," Bonner told The Guardian after the pair touched down at Heathrow. "We were treated like common criminals, as far as they were concerned. It was a complex, political case and they chose to use the same line as if we had been caught taking five kilos of cocaine into the country."
The two were detained by the Indonesian navy in May while filming a documentary about corruption in the military. They were initially charged with threatening national security, an offence carrying a penalty of up to 12 years in prison.But the charge was later changed to an immigration offence because the two did not possess special visas required to work as film-makers.
While thanking their production company Wall to Wall for its support, the journalists criticized the FCO for its casual manner and for a statement it issued that looked like a "cut and paste job." Even a diplomatic statement that could have helped was not dispatched, they claim.
Questions have been raised over why the duo was held for five months after being sentenced to just two and a half months. In many recent cases of visa violations reporters have been deported and not held.
Prosser and Bonner claim their case was closely monitored by the Indonesian military and was about far more than irregular visas. The navy wanted the case to go to court, says Bonner who believes they were used by various forces working for and against press freedom.
Bearing this out is a statement by a senior Indonesian navy commander, Rear Admiral Taufiqurrahman, who told the Jakarta Post that the film-makers "could tarnish the image of the Malacca strait as a crime-prone area".
The two journalists expressed gratitude to friends and family who were a big support during their trying times in prison when money power helped.
Prosser said: "We washed from troughs with plastic buckets, we ate dirty food, I got infections and the clinic there didn't have the medicine to treat it properly. We have visitors who could bring us things, so we were lucky. Leaving prison, I actually felt a sense of hopelessness for the people I met, who have no hope of justice at all. I feel a responsibility to them."
© Copyright IBTimes 2023. All rights reserved.