A zoo in France shared joy and pain at the same time after a giant panda gave birth to twin cubs on Friday (4 August) but one of the newborns died shortly after.
Huan Huan, the female panda gave birth in Beauval zoo in central France. The twins were the first ever pandas to be born in France, Reuters reported.
Huan came to the French on loan from China. She had been under close observation for several days, with two Chinese veterinary doctors assisting French staff during the delivery.
The two cubs were born 14 minutes apart on Friday morning. But the first one suffered from breathing problems and died, the zoo said.
"Huan Huan remained very calm throughout. The first baby came quickly and Huan Huan held it against her and licked it clean," the zoo said in a statement.
"The second followed 14 minutes later. Huan Huan abandoned the first and looked after the second."
The first cub weighed only 121grams and was too weak to survive, zoo director Rodolphe Delord said.
"The Chinese experts, who have experience of this, saw it straight away," he added.
"Our veterinary teams did everything they could to save it, but it was too small, too weak."
The second twin weighed 142.4gm and was in "perfect health", AFP news agency reported.
While an adult female panda can weigh up to 125kg (275 pounds), a panda cub usually weighs only about 120gm at birth.
The zoo is yet to determine the sex of the panda. The cub has been put in an incubator to give Huan a helping hand.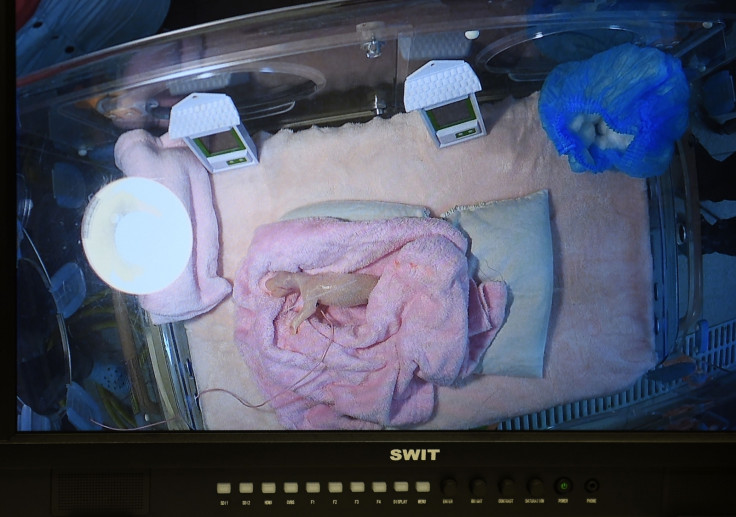 Huan arrived at the French zoo in January 2012 on a 10-year loan from China as part of the 'panda diplomacy'. She was single cub at that time.
The nine-year-old first-time mother panda was introduced to her male partner Yuan Zi earlier in February this year. But they did not mate, which made the zoo opt for an artificial insemination.
The couple is the only giant pandas living in France.
Female pandas are believed to be only in heat once a year for about 48 hours. And their gestation period is only 50 days.
Panda births are extremely rare because of the great difficulties the animals have in conceiving. Zoos often have to artificially inseminate female pandas in order to help them reproduce.