Julian Assange offers himself up in exchange for whistleblower Chelsea Manning's pardon
President Barack Obama is reportedly considering commuting Manning's sentence amid mounting pressures for her release.
Wikileaks founder Julian Assange is willing to be extradited to the US in exchange for the release of the imprisoned military whistleblower Chelsea Manning, Wikileaks has tweeted on 12 January.
"If Obama grants Manning clemency Assange will agree to US extradition despite clear unconstitutionality of DoJ case", the tweet read.
Wikileaks has made similar pledges in the past, seemingly on behalf of his founder, most recently on 15 September: "If Obama grants Manning clemency, Assange will agree to US prison in exchange – despite its clear unlawfulness".
In both instances, Wikileaks made the pledge while retweeting a letter to US attorney general Loretta Lynch dated August 2016. In the letter, Assange's defense counsel requested the attorney to publicly close the investigation into Wikileaks and his founder.
Assange was granted political asylum by Ecuador in 2012 and has been living in the Ecuadorian embassy in London since. He refuses to be extradited to Sweden, where he is accused of rape, because he fears the authorities would then extradite him to the US where he'd be put on trial for releasing confidential US documents.
Wikileaks argued that no prosecutor would be able to demonstrate criminal intent in the case, just like FBI Director James Comey stated in relation to the Hillary Clinton email investigation – the "Clinton precedent", as Wikileaks dubbed it.
Who is Chelsea Manning?
Chelsea Manning was sentenced for 35 years after been convicted for leaking controversial and confidential US military material to Wikileaks in 2010 when she was a private first class in the army. At the time, she was known as Bradley Manning.
The incendiary leak of 700,000 documents included videos, incident reports from the Afghanistan and Iraq wars, cables from the State Department and information on detainees held in Guantanamo bay. The most notorious video was one called "Collateral Murder", in which a US Army Apache helicopter opened fire against a group of civilians in Iraq, which turned out to include journalists from Reuters.
Manning has made two attempts to commit suicide during her time in prison, for which she has been punished with time in solitary confinement. She also went on hunger strike to demand the US military to provide her with gender reassignment treatment, which was agreed in September.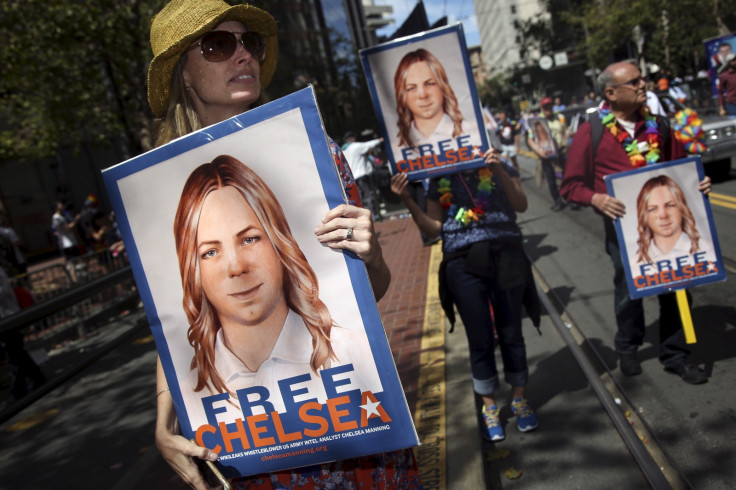 Manning's supporters argue that the transgender former soldier should be seen as a whistleblower who, under US laws, are protected from prosecution for divulging confidential information, if they are acting in the public interest.
Her situation has moved more than 100,000 people to sign a petition on the White House website for President Barack Obama to pardon her before President-Elect Donald Trump is inaugurated on 20 January. The White House now has until 9 February to respond to the petition. The American Civil Liberties Union (ACLU) among other civil liberties group has also urged Obama to release Manning, pointing out that she is a transgender woman currently living in an all-male prison.
On 11 January, NBC News reported that President Obama has Manning on his shortlist for a possible commutation, quoting a Justice Department source.
Former CIA-employee turned whistleblower Edward Snowden, who may also be a recipient of presidential pardon, also tweeted in support of Manning's release. Rather than pleading for himself, Snowden wrote: "If you grant only one act of clemency as you exit the White House, please: Free Chelsea Manning. You alone can save her life."
So far, Obama has issued clemency to 1,324 individuals convicted of federal crimes, including 148 pardons, primarily for people who have been prosecuted due to the US "War on Drugs".
© Copyright IBTimes 2023. All rights reserved.