QPR goalkeeper Julio Cesar has revealed he is in discussion with five Premier League clubs, following the Hoops' relegation to the Championship this season. The former Inter Milan No 1 joined the club last summer and despite the Loftus Road club's poor form, has impressed with five clean sheets and 97 saves in 24 Premier League games.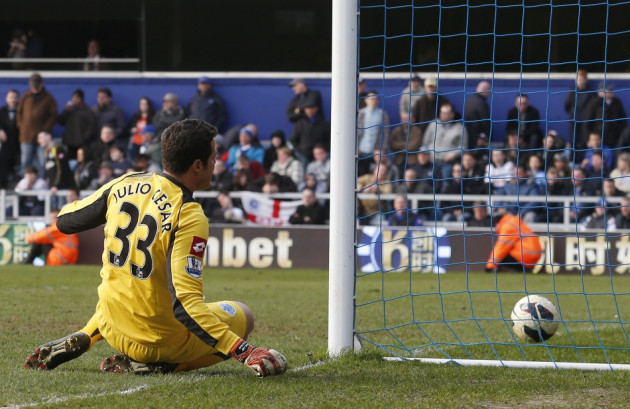 "I am in negotiations with other clubs in England and from other countries but there's still not been anything definitive. I am concentrating on Brazil, I still have a deal with QPR, but I also know I have to prove that I should be in the squad for the World Cup in 2014," the 33-year-old South American said.
QPR boss Harry Redknapp has already confirmed Cesar will leave the club, as the west London side struggle to re-align their finances for next season. The Brazilian has a £70,000 per week contract with the club and they simply cannot afford that outlay in the Championship.
The Mirror has linked Cesar with a move across town to Arsenal. The Gunners are believed to want an experienced and settled No 1, following shuffling of the position this season between Polish internationals Wojciech Szczesny and Lukasz Fabianski.
Arsene Wenger has also been linked to Sunderland goalkeeper Simon Mignolet, with The Independent speculating on a £10m move for the Belgian. There may be a problem with that deal though, with the Black Cats star hinting he may stay at the club.
"As a footballer, you want to do well and want to win games and finish higher in the table than 17<sup>th. On that point, it was a disappointing season. But then again, there's a reason for that and hopefully next year we can do a lot better," Mignolet told the Shields Gazette
Meanwhile, any move for QPR's Cesar will mean Wenger could go head-to-head against Serie A giants AC Milan. According to the Metro, the Italians are considering their rival's former No 1 as replacement for Christian Abbiati. However, Cesar was earlier quoted as denying he would ever return to the Italian league.