Jurgen Klopp says Liverpool will be good despite disappointed draw at Tottenham
KEY POINTS
Merseysiders were held to a draw at White Hart Lane.
Manager says James Milner proved why Reds don't need to sign another left-back.
Jürgen Klopp believes there are plenty of reasons to believe in Liverpool despite he left White Hart Line disappointed after his side were held to a 1-1 draw by Tottenham. Meanwhile, the German boss hailed his decision against signing a new left-back this summer after versatile James Milner excelled in the position.
The captain eventually gave the Merseysiders the lead from the penalty spot just before the break after Erik Lamela fouled Roberto Firmino inside the box. However, Klopp's side failed to kill the game and gave Spurs a chance to go back into the game, with Danny Rose scoring the equaliser in the 72nd minute.
"I still feel a little bit disappointed, [even though] we took a point against Tottenham. When we played like this then I think we could have won the game, but it is like it is. We have to accept all the things that happened around [the game].
"We made one mistake in and around their goal and they also had a header from Alderweireld and a wonderful save from Simon," Klopp said in his press conference after the game. "There were not plenty more chances for a home game for a football-playing team, a good side like Tottenham. This says a lot about our defending.
"But on the other hand, we had chances – and, of course, we even had one in the 92nd minute but in the end, unfortunately, it was not a chance."
Klopp believes his side made enough to secure all the three points but accepted that Spurs also had chances to score in a thrilling end. Yet, despite having only four points from their opening three Premier League games, the German is optimistic ahead of the future.
"This game showed again what we can do, how we can play. It was not only about pressing and things like this, although we did it really well," he said. "We were really flexible in offensive defending and then played football. We had wonderful moments with passing and all that stuff, the direction in our game.
"Yes, I wish we would have won it but now we have to accept the point and that's no problem because it's Tottenham. They scored a goal and they could have won the game too. If they had scored the header, it was the same game but with two goals for Tottenham, so we have to accept it.
"We showed again we can be really good and that's what we have to show in each game. Then everything will be good."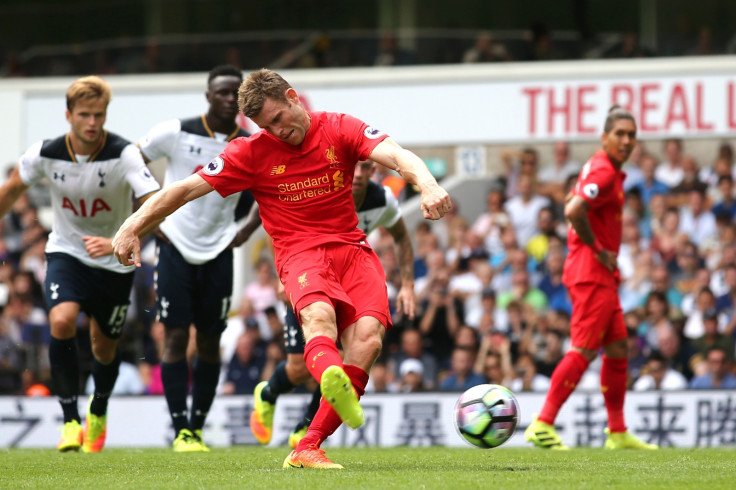 Klopp has been encouraged to sign a new left-back before the end of the transfer window amid Alberto Moreno's scrutiny. However, the German boss believes that Milner proved against Tottenham that the position is well covered.
"You need more players for different positions. The only decision we made was that Millie can play [there] and in the style of play that we should play. A full-back is not only a winger in the offensive situation – it's something like [a number] eight in different moments. It's a really good position for Millie," Klopp added. "He still has to adapt a little bit and learn because he has 500 games, but not in this position.
"So we have to work on it, that's how we work with every player, but in the end, we were convinced he can play the position, that's why we didn't make a transfer in that position on other players. I'm not surprised that he can play there."
© Copyright IBTimes 2023. All rights reserved.