Canadian Prime Minister Justin Trudeau has personally welcomed a group of 136 Syrian refugees at Pearson International Airport in Toronto on Friday (11 December). This is the first large group of 20,000 vulnerable individuals to arrive in Canada, fleeing the war in Syria, before the end of February.
Trudeau, who made a commitment to Syrian refugees as one of his key campaign pledges, welcomed the first two families through the gate with winter coats. The first family, a couple with a 16-month-old daughter and the second, a young family of five, said they were pleased to have made it to Canada, the CBC news reported.
"They step off the plane as refugees, but they walk out of this terminal as permanent residents of Canada with social insurance numbers, with health cards and with an opportunity to become full Canadians," Trudeau said.
"This is something that we are able to do in this country because we define a Canadian not by a skin colour or a language or a religion or a background, but by a shared set of values, aspirations, hopes and dreams that not just Canadians but people around the world share," he added.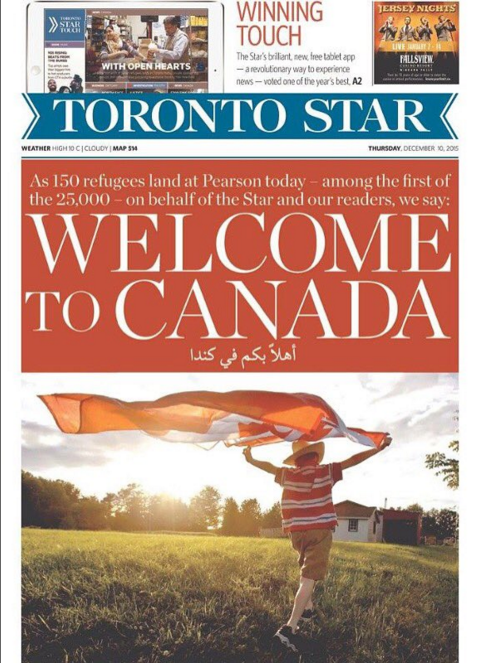 Trudeau, the ministers of immigration, health and defence, and Ontario Premier Kathleen Wynne greeted the refugees at the gate, with dozens more well-wishers cheering the refugees' at international arrivals.
Elected in November on a liberal platform, the Canadian premier announced the arrival of the refugees in Canadian parliament earlier in the day. A second group of refugees is set to arrive in Montreal on Saturday.
Trudeau's stance on refugees in Syria has placed Canada in a position starkly different to its neighbour the US where dozens of governors had ruled out the arrival of Syrian refugees. As the Canadian prime minster literally embraced the newly arrived refugees, US republican frontrunner Donald Trump has said he would close US borders to all Muslims in the wake of mounting security fears over Islamic terrorism.
Canada's own immigration policy had to be put on hold in the wake of the Paris attacks on 13 November after enhanced security procedures were put in place to screen new arrivals from Syria. Trudeau faced criticism over the two month delay and the announcement that no single Syrian males would be accepted as a part of the refugee scheme.