To the uninitiated, computing is often considered to be something almost magical, or so high level in complexity that only know-it-alls understand anything about it.
But what if you could de-mystify technology? What if, other than using the Microsoft Office suite of software on a PC and apps on your smartphone, you could make it ubiquitous for the masses to understand coding and how computers work?
This is what London-based startup Kano has been trying to achieve, and it seems to be making inroads.
Inspired by a conversation with a six-year-old boy who wanted to build his own computer using the Raspberry Pi, former Newsweek/Daily Beast journalist Alex Klein set out to create a computer that children could snap together and build all by themselves, just like Lego bricks.
Together with his cousin Saul Klein and Israeli entrepreneur Yonatan Raz-Fridman, the trio put together 200 of the very first prototypes in cardboard boxes in a little flat in Belsize Park in early 2013, complete with hand-illustrated storybooks showing kids how to build simple computers and then code with them to make music and play games.
"We started a company because we noticed a gap — there's something strange going on. We all carry on these devices, these beautiful sealed monolithic smartphones, they connect us to everything, but only 1%, of 1%, of 1% of society understands anything about how computers work," Klein tells IBTimes UK.
"A lot of people think about digital literacy and coding skills like a foreign language. It's focusing on the wrong things, like learn to code or you won't be able to get a job, which is horrible. We say that computers aren't just layers of mechanical rule-following machines."
Making IT education fun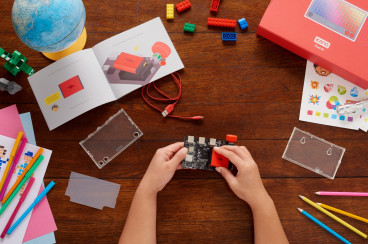 Within a year, the startup had convinced schools and people in the tech industry to play with the kit, launched a successful Kickstarter campaign, and shipped the first official kits to backers in over 86 countries.
In Kosovo, young girls used the Kano computer kit to power solar panels, while in Sierra Leone, teenagers used the kit to build their own radio stations.
And then in May 2015, Kano secured $15m (£11.6m) in funding, with strong backing from Jim Breyer (the first venture capitalist investor in Facebook and Pinterest), Salesforce's Marc Benioff, and WPP chief executive Martin Sorrell.
The funding enabled the startup to bring on engineering experts and to help create a huge online app ecosystem called Kano World, where there are now over 160,000 apps coded by Kano users that others can download and use.
Fast forward to 2017, and now Kano has entered mass retail. Its DIY computing kits can be found in Toys R Us, in the Barnes and Noble bookstore chain in the US and in multiple schools across the UK and US. People spend 13.5 hours on Kano software in the first month they use it, which the startup says is on parallel with Snapchat's first annual filing.
"It's kind of similar to what happened in the early 1980s with chipsets. This new breed of chipsets that were low cost, more powerful and hackable started coming out in the 80s, and people like Steve Jobs and Michael Dell took them and introduced them to the mass market [as personal computers]," Klein explains.
"We're doing the same — we're doing really polished experience design and deep technical work to make low cost hackable single board computers like Raspberry Pi, Arduino and the Beagle Board accessible to users."
The Pixel Kit
The startup has also successfully crowdfunding three additional computer kits, including an additional screen, and now a light-based computer called the Pixel Kit.
The original Kano Kit is essentially a build-your-own computer with components that snap together easily, similar to LEGO bricks, and comes with software kids can use to code apps that do fun things.
Instead, the Pixel Kit focuses on making something that is more creative from a physical point of view — commands coded into the kit have a result that can be seen visually, and the kit is almost half the price of the original Kano Kit, because you interact with it by hooking it up to your PC.
Klein describes the Pixel Kit as a cross between a Game Boy and a Lite-Brite (two popular toys from the 1980s). There are over 40 challenges on the device, and the Pixel Kit can be used to make a music visualiser, an interactive weather display, or the user can paint and draw with light.
Users can even make their very own portable retro arcade games like Snake and Pong, show off tweets, or make animations that move and navigate obstacles.
"We combine different types of coding — visual programming with blocks you can plug in, with simple text-based programming in java script, to make little works of art so you can share it with your friends," he says.
In a world where IT skills are becoming ever more important, and the increasing dependence on software developers and engineers, Kano's efforts are being praised for making the gateway to computing seem less scary. But the startup says that it's not focused on creating the next generation of IT workers.
"Our goal is not to create Facebook engineers, it's to create informed, aware and capable citizens of the 21 century who understand coding across languages. [For example], we start you in JavaScript but the principles carry over into other areas and languages too," says Klein.