Kanye West has outdone himself with new music video Famous. The Grammy-winning rapper is often applauded for his musical creativity but his latest clip has been described as everything from downright creepy to entirely misogynistic.
Critics are certainly justified in their views as the video offers nothing more than naked imagery of Taylor Swift, Amber Rose and even West's wife Kim Kardashian. Swift is seen sharing a bed with 11 other celebrities – George W Bush, Anna Wintour, Donald Trump, Rihanna, Chris Brown, Kardashian, Ray J, Amber Rose, Caitlyn Jenner, Bill Cosby and West himself but, unsurprisingly, they are in wax model form.
Prior to its premiere on 24 June via Tidal, many thought Swift, 26, would take centre-stage in the Famous video following her reported spat with West, 39, over whether he had been given permission to mention her in the song. West raps: "I feel like me and Taylor might still have sex, why? I made that b***h famous."
Loyal singer Brown was rather amused with the version of himself, joking on Instagram: "Why I gotta have the plumbers butt/ crack showing WAX figure? This n***a KANYE CRAZY, talented, but crazy." Brown may have a small "butt crack" on display but Swift, Rihanna and Rose are not afforded such modesty. All three ladies have both their breasts and lower private parts exposed while the men, notably Cosby, Trump and West are either protected by bed sheets or are slightly overturned with only their buttocks visible.
Whichever way you look at it, the nude ratio between the male and female celebrities is explicitly one-sided and the men have less on display. Unfortunately, that is not the only issue with the video.
Bill Cosby was once a celebrated comedian and actor but has become a disgraced public figure accused of drugging and sexually assaulting several women on a number of occasions since the 1970s. Presently, Cosby has not been found guilty of these crimes but with legal proceedings still ongoing, it hardly seems appropriate to have the TV star lying half-naked in a bed with other naked women while his manhood hangs out.
Also in poor taste is Kardashian, 34, lying sandwiched in between her husband West and ex-boyfriend Ray J with whom she stars alongside in their infamous 2007 sex tape. Ray J is positioned next to West's ex-girlfriend Amber Rose, who in turn is beside Kardashian's step-father Caitlyn Jenner. Not quite the traditional family affair.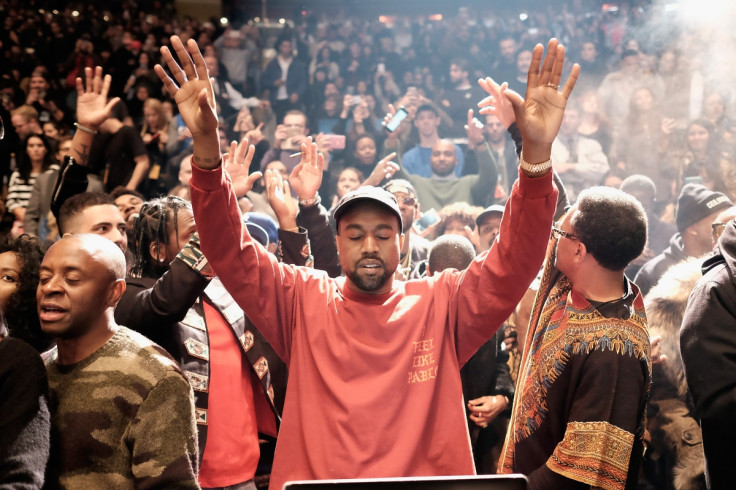 The situation is far from normal on the other side of the bed. Many have criticised West for having singer Rihanna, 28, lying next to her ex-boyfriend Chris Brown, who pleaded no contest to assaulting the singer in 2009. Pointing out the glaring insensitivity, a critic commented on Twitter: "Kanye West's new video made me v uncomfortable, putting naked Rihanna beside naked Chris Brown who used to abuse her????" while another said: "Kanye is tasteless as f**k for putting Rihanna and Chris Brown next to one another."
Rapper French Montana has spoken out on the Famous video controversy, in defence of West's creativity. According to the New York Daily News, the Pop That hitmaker said at the BET Awards: "I feel like we need more Kanyes. I feel like he brings entertainment to the game. I feel the game is boring without Kanye. I feel like we need that sometimes. He's a genius. He's creative. Sometimes he might go a little overboard, but he's smarter than his moves, you know."
Clearly not everyone agrees with French Montana's opinion. One critic mused on Twitter: "He had nude lookalikes of women in his video w/out consulting them and it's not misogynistic, it's genius? Why does Kanye always get a pass?" Surprisingly, the rapper actually encouraged the celebrities mimicked in his video to take legal action, tweeting before deleting: "Can somebody sue me already#I'llwait."
Quite frankly, it should not come down to getting sued over a preventable situation. Famous just should not have happened at all.