Kanye West leads Nashville crowd in chants of 'F*** Taylor Swift' as he sings 'Famous' three times
The rapper defended his controversial track during the Bridgestone Arena date of his Saint Pablo tour.
Kanye West seems to be doing his best to stoke the flames of his ongoing feud with Taylor Swift. The rapper made another public jibe at the Bad Blood singer's expense while performing on stage during his Saint Pablo Tour.
The 39-year-old rapper and musician was performing at the Bridgestone Arena in Nashville, the heart of the country music scene, where Swift first came to prominence.
Taking to the stage the Bound 2 singer performed his controversial track Famous which includes the lyrics: "I feel like me and Taylor might still have sex / Why? I made that b**** famous".
Making a point, West sang the track three times, chanting "F*** Taylor Swift," as he repeated the lyrics that had originally caused her offence.
"I need to hear that loud in Nashville. I need to hear that so loud in Nashville!" he said.
The Stronger singer was well aware of the significance of performing the track to the Nashville crowd and seemed to revel in hearing them pour scorn over his nemesis, Mail Online reports.
He defended the song, telling the crowd it was a work of "art". "So many people told me, 'You've got to take that line out of the song," he said during the concert. "You got to play it safe, but this is what rap music is. This is what art is. Saying how you feel. And this song is how I feel."'
The song, which was released in February, had sparked a social media spat between Taylor and Kanye's wife Kim after the reality TV star posted a Snapchat video of the singer discussing the song with her husband.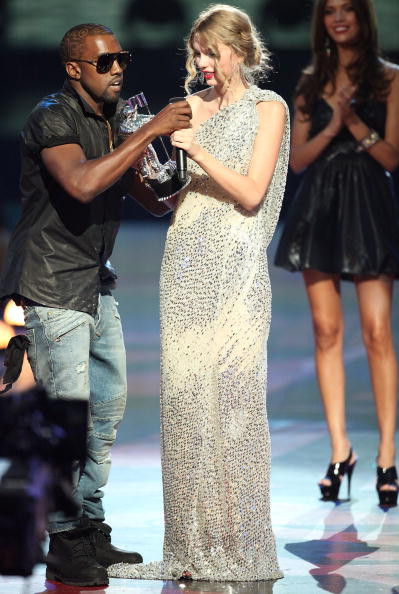 Kanye West (L) jumps on stage after Taylor Swift (C) won the 'Best Female Video' award the 2009 MTV Video Music Awards at Radio City Music Hall
Getty
Swift threatened to take legal action against the couple for making their private conversation public, and claimed that while she was heard agreeing to being mentioned in Kanye's controversial track, she had not consented to the specific content and did not realise she would be referred to as "that bitch".
She said in a statement: "You cannot approve a song that you haven't heard. Being falsely painted as a liar when I was never given the full story or played any part of the song is character assassination."
The Yeezus star responded claiming that Swift had approved the song and denied he had ever put her down. "I did not diss Taylor Swift and I've never dissed her," said West, adding that he "...called Taylor and had a hour long convo with her about the line and she thought it was funny and gave her blessings."
In a recent interview, Kardashian-West also insisted she did nothing wrong and had not intended to publicly embarrass the Bad Blood hitmaker.
Speaking to Wonderland magazine, the mother-of-two added that in fact she is a fan of the singer. "I never publicly talk bad about people. I still don't feel like I have. I'm being honest. I'm a fan. I like her music. There was no shade," Kim told the magazine.
It's the latest episode in a conflict that began in 2009 at the MTV awards when Kanye stormed the stage and interrupted the 26-year-old singer as she collected the Best Female Video award whiche believed should have gone to Beyonce for Single Ladies, which he called "one of the best videos of all time." Beyonce looked on horrified and later called on Swift to have her moment.
While West and Swift later seemed to make amends, it appears that the rapper was unable to help himself with his latest jibe.
But the Shake it Off singer has seemingly had enough of his antics. Responding to the disagreement over the Snapchat recording she said: "I would very much like to be excluded from this narrative, one that I never asked to be part of, since 2009."
Graphic content warning: Explicit language