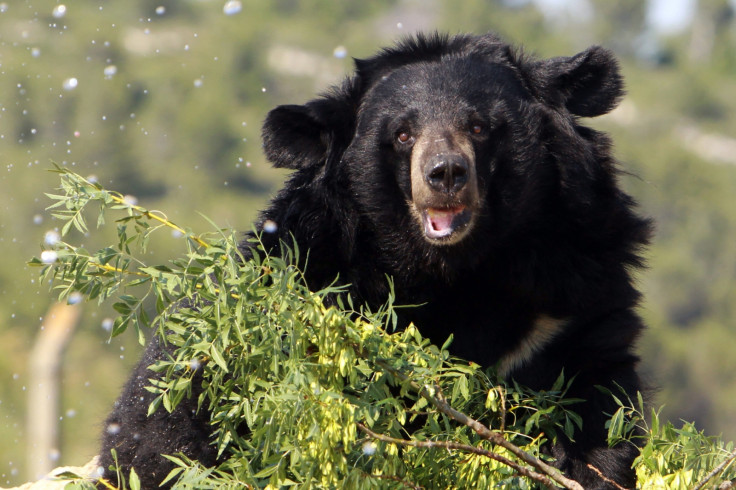 A Japanese man called on his karate training to fight off a 6ft 3" Asian black bear and live to see another day. Atsushi Aoki was out fishing on the Jizo River when a snarling bear launched what Aoki describes as "an unprovoked attack".
The 63-year-old encountered the bear on Thursday (1 September) afternoon, the Japan Times cited police in Gunma prefecture as saying. "The bear was so strong and it knocked me down," Aoki told Tokyo Broadcasting System.
"It turned me over and bit me right here," he continued, pointing to his bandaged leg.
Instead of trying to make a quick getaway from the intense situation, the high-ranking karate practitioner used his martial arts skills to defend himself. Aoki assumed a fight stance and managed to jab at the bear's eyes, forcing him to retreat into the woods.
"I thought it's either I kill him or he kills me," he told public broadcaster NHK.
He emerged from the ordeal with bites to his head, right arm, right thigh and forehead, as well as scratches to his face. Despite the high-risk situation, the fisherman even managed to seek help at a hospital in Gunma, which lies northwest of the capital, Tokyo.
"He drove himself to hospital, and he even remembered to grab the fish that he had caught," a local police officer told Agence France-Presse (AFP).
Aoki's daring self-defence caused a media frenzy, with the Nikkan Sports tabloid declaring: "Man fights off bear with bare hands!"
Authorities in Japan have warned members of the public not to try and replicate Aoki's actions if they encounter a bear in the wild. "If you witness a bear, don't fight. Walk away quietly and report it to the police instead," an official said.
Bear attacks are not uncommon in Japan. Earlier this year, four people were killed in separate incidents.