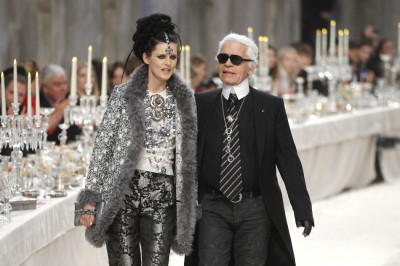 German fashion designer and Chanel creative director Karl Lagerfeld launched an India-themed luxury show during the Metiers D'Art Show for the fashion house in Paris on Tuesday.
Since 2003, the show has been paying homage to Chanel workshops with high-end couture collections.
The entire event was opulent with chandeliers, banquet tables and a grand feast where visitors were served on gold-plated cutlery.
The collection looked spectacular with embroidered pearls, gold and silver details. Models adorned bejewelled accessories and turbans along with ethnic-inspired leather sandals.
Prior to the Bombay-Paris themed event, other shows named Paris-Shanghai, Paris-Byzance and Paris-Moscow were held.
The Wall Street Journal reported that the Bombay blowout hinted at a kind of fin-d'epoque lavishness that the luxury-goods industry has grappled with for a few years now.
The new collection by Lagerfeld comes at a time when the luxury industry is trying to escape the general gloominess associated with economic upheavals. In some way, the show has been regarded as a last-ditch effort by the industry during the crisis period.
Take a look at the exclusive collection in the slideshow given: