At 5ft 1in and 105lbs, Karrueche Tran is as petite as they come. Despite being in the midst of curvier women like Kim Kardashian and Jennifer Lopez, she insists she would never consider going under the knife. Speaking to IBTimes UK, the celebrity stylist turned actress, whose path to fame involved dating Chris Brown, insists that it's very important to embrace the body we are born with.
"People have [certain perceptions] of how women should look or women should be. I think it's always best to accept who we are and what God has given us. I'm a very petite and a small girl when people see me in person they are like 'oh my God' I didn't know you were so small'. There is an image now that women are more voluptuous – they have big boobs and bigger butts. It's beautiful but not everybody is blessed with that so people resort to things like surgery."
The pint-sized model added that while she doesn't judge people who opt for plastic surgery, she cites her position as a role model as one for the main reasons it just isn't for her. "My opinion is 'each to their own'. If that's what you are into and that what you want to do, so be it. I think it would send the wrong message to young girls because they would think they have to be something that they're not and that's very unfortunate."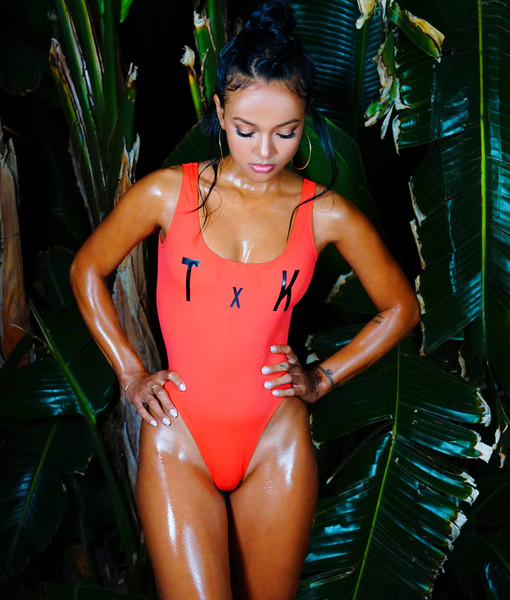 She continued: "That's why I have never taken the route of getting my boobs done or getting my butt done or getting surgery on my face because I have a platform, I have 5 million followers and many are young girls. That's why I'm always hashtagging ittiebittycommitte representing for 'the small'.
Tran managed to stop traffic with a sexy photoshoot for her streetwear collab with This Is A Love Song, called TxK Capsule. In the image, which has 70K likes and counting, she sports a revealing bathing suit as she flies the flag for small-breasted women.
"When you are wearing that kind of bathing suit you kinda let your inner woman out and it was a much more mature look and feel to most of my other pictures but it was great and that's what I want other girls to feel. I want them to be able to feel sexy and feel like a woman when they are wearing that bathing suit as well.
"I wanted to do a small capsule collection around Coachella so I collaborated with them [This Is a Love Song] to do a small collection and we did hats bathing suits, shorts, scarves very directed towards Coachella. It was a lot of fun. We made it very sexy but still street at the same time and it turned out very well."