The first pictures of Kate Middleton's baby bump have been published in Chi, the Italian magazine owned by Silvio Berlusconi.
The pictures show the Duchess of Cambridge in a blue bikini on the beach of the Caribbean island of Mustique.
She was snapped with Prince William in the sea on a public beach on the island, and Chi announced it would be publishing details of their holiday in its latest edition yesterday.
Chi was one of the magazines that published pictures of Kate topless last summer.
Kate is around four months pregnant - St James' Palace confirmed that the baby, who will be the future king or queen of the UK, is due in July.
The palace said the pictures were a "clear breach of the couple's right to privacy".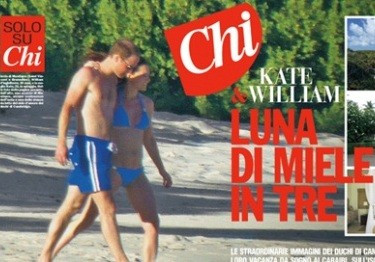 "We are disappointed that photographs of the Duke and Duchess on a private holiday look likely to be published overseas," a spokesman said.
A palace source told the Daily Mirror that Kate and William are very angry about the pictures.
They told the newspaper: "The Duke and Duchess are obviously furious about this.
"Yet again they have been unable to even have one week of holiday without, apparently, images being taken against their will.
"This is all the more worrying at a time when the Duchess is pregnant and obviously raises their concerns about what sort of family life their children will have if this kind of thing continues."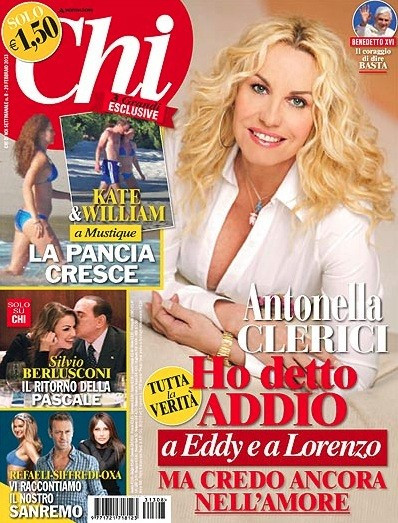 However, since Chi said it would publish the pictures, the editor of the Australian magazine Women's Day also said she plans to print the holiday snaps.
Fiona Connolly told news.com.au that the pictures are not tasteless like those taken of the duchess topless while on holiday in France last summer.
She said they show Kate looking "fit and fabulous", adding that she was on a public beach mingling with other holiday makers.
"Aussies are a lot more laid back and when it comes to the beach and our readers will see these as something we do in do in everyday life. We see these sorts of photos every day.
"Everyone but the UK has or will publish these pics. The British press has collectively made a deal with the palace (but a) gentleman's agreement over there doesn't affect us over here."
READ: Queen Beats Kate Middleton to Top Woman's Hour UK Power List