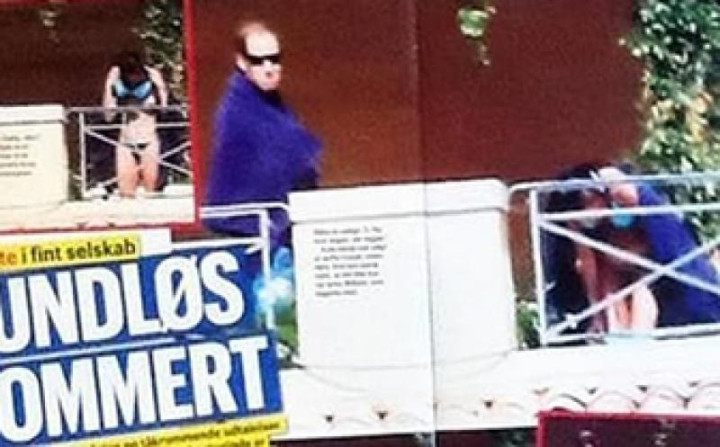 Danish gossip magazine Se og Hor has crossed yet another line by publishing fresh pictures of Kate Middleton - this time of the royal bottom.
The latest tranche of snaps invading the Duchess of Cambridge's privacy are published in Denmark today.
Click here for the latest semi-nude pictures storm.
They are certain to leave husband Prince William furious, as he has been since the images were first published by French Closer on 14 September.
But this latest batch could spark new rage at St James's Palace, which houses the offices of princes William and Harry .
As soon as the scandal broke, royal anger was clear.
The prurient snaps show the Duchess of Cambridge with her back to the camera, wearing only bikini bottoms.
In one snap, even more is revealed when the band of her pants slides down.
Potentially the most invasive image is one in which some details are ambiguous.
The frontal shot depicts Kate with a large towel covering her. She is crouching down - to pull on or take off a garment. Shockingly, it is not clear if she wearing any under garments at all.
Se og Hor editor-in-chief Kim Henningsen said he is "unbelievably proud" of publishing the images.
Henningsen can be pretty sure the royal family does not feel the same.
The naked Kate pictures storm, which continues to batter the young royal couple, starting brewing early in September.
They were snapped by a photographer with a long-lens, spying on them from a public road nearly a mile away from the secluded chateau in southern France where the royal couple were on holiday.
French Closer magazine was first to publish the images, casting a huge shadow over the couple's tour of southeast Asia.
They refused to let the scandal interfere with their successful trip to the region.
But Prince William's anger was clear in Kuala Lumpur when he stalked past the press pack with a face like thunder.
Wife Kate looked uncomfortable next to him following her exposure to this side of the popular press.
In France, Closer Editor Laurence Pieau defended the images as completely normal and claimed Kate was visible from the street.
Angry officials at St James's Palace called in lawyers and issued a writ in the French Courts.
The magazine lost the injunction battle, was ordered to hand over the images and was banned from selling them on.
But as soon as one fire was out, another erupted when Chi magazine in Italy announced it would publish another selection of images.
The magazine was part of a group owned by former Italy prime minister Silvio Berlusconi.
Yet more misery was heaped on to the royal family when Se og Hor followed suit by publishing the shots in a so called 'special edition'.
The same title in Denmark has now gone even further.