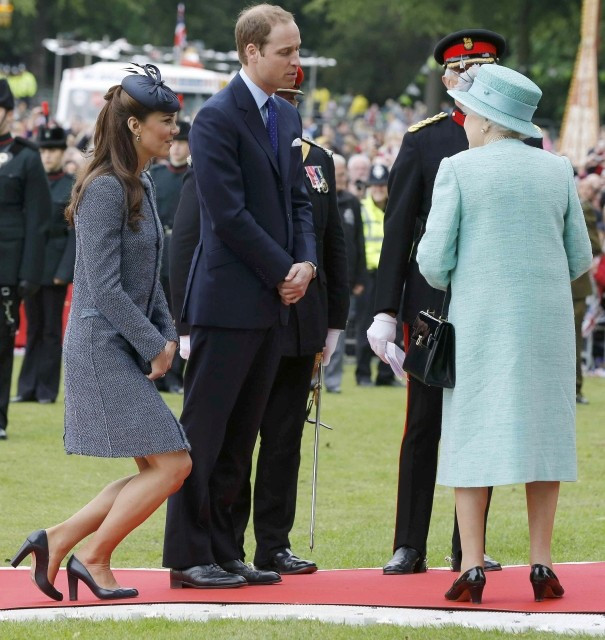 Regulations governing curtseying and bowing, both within and outside royal family circles, may sound outlandish concerns for popular culture and the family themselves to bother with, particularly in the 21st century but it is a requirement of great importance within the royal family.
Ever since the announcement of Prince William's engagement to Kate Middleton, in November 2010, the now Duchess of Cambridge has had deal with considerable conditions and rules about the act of curtseying, said to be one of the most confusing aspects of Royal protocol.
According to updates from the Precedence of the Royal Family at Court, Catherine the Duchess of Cambridge will have to curtsey to "blood princesses" Beatrice and Eugenie, the Daily Mail reports. The updated Royal protocol implies this requirement to curtsey to Princesses Beatrice and Eugenie is enforceable despite her higher rank of Duchess and status as the wife of the second apparent to the throne.
Curtsey Confusion
The Precedence of the Royal Family at Court is decided by the Queen, for private events, as well as by the law. Her Majesty the Queen determines the Order of Precedence separately for ladies and gentlemen as well as the joint precedence, which brings a whole lot of confusion in curtseying requirements, making the royal protocol complex.
Women born royal usually outrank those who are not, including the wives of royal men having high rank. The Queen had the Order of Precedence rewritten in 2005 after Prince Charles' wedding to Camilla. The Duchess of Cornwall was placed, in the royal pecking order, after Her Majesty herself, Princess Anne and Princess Alexandra. However, the Prince of Wales' first wife, Diana Princess of Wales, was given second place in the Order of Precedence for ladies, right after the Queen, since she was a royal by blood.
The updated protocol will require the Duchess of Cambridge to curtsey to sisters Princess Beatrice and Eugenie of York, the granddaughters of the Queen, despite the former's seniority in both age and rank. However, should Catherine be accompanied by her husband, the Duke of Cambridge, the curtsey protocols would then be reversed, since Prince William takes precedence over his uncles, Prince Andrew the Duke of York and Prince Edward the Earl of Wessex.
On similar lines, Prince Edward's wife Sophie, the Countess of Wessex, will have to curtsey to Kate Middleton, according to the updated protocol document, which has reportedly been circulated privately in the royal household. Under the new rules, Sophie will drop to the bottom of the order since she is neither a royal by birth nor is her husband of a suitably high rank.
Meanwhile, amidst all the confusion of who will curtsey to whom, it is widely speculated Kate Middleton, the Duchess of Cambridge, will politely accept and follow the Order of Precedence.