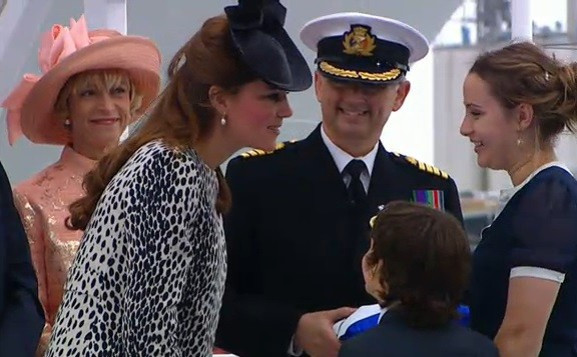 Kate Middleton has made her last public appearance before the birth of her first child with Prince William.
The Duchess of Cambridge arrived in Southampton's Ocean Terminal to meet crowds before christening the newest ship in the Princess Cruise fleet.
Like Princess Diana at the Royal Princess naming ceremony in 1984, Kate will take part in the traditional ceremony of smashing a bottle over the hull.
Royal photographer Mark Stewart posted a picture of the bottle of Moet & Chandon ahead of the ceremony, which showed the bottle decorated especially for the occasion.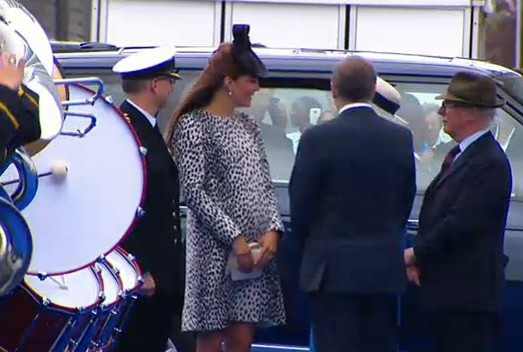 The ceremony will also include performances by the Royal Marines Band, the pipers of the Irish guards and pop singer Natasha Bedingfield, who was dressed in a neon yellow skirt and a cropped top and sang Unwritten, one of her hit tracks.
Kate wore a black and white leopard print coat from Hobbs teamed with a black hat.
Speaking at the ceremony, Alan Buckelew said it was a "proud day" and the accumulation of several years of design. "To this day our pride in British heritage endures," he said.
"We are honoured her royal highness the Duchess of Cambridge will name the ship today, marking the start of its journeys in a ceremony dating back 1000s years.
"Her royal highness is an inspirational ambassador who is admired around the world."
Cutting the ribbon, Kate said: "I name this ship the Royal Princess. May god bless her and all who sail in her."
Princes Cruises streamed the naming ceremony live via its website. Speaking about the ceremony after it was announced in April, Buckelew said: "It is a great honour that the Duchess of Cambridge has accepted our invitation to become the godmother to Royal Princess."
The Royal Princess is a 141,000-tonne vessel that can carry 3,600 passengers. It will make its maiden voyage in a few days' time.
The ship arrived in Southampton on 7 June and features an expanded atrium, a glass-bottomed walkway that extends 28ft beyond the end of the ship, private dining rooms, poolside cabanas and a television studio.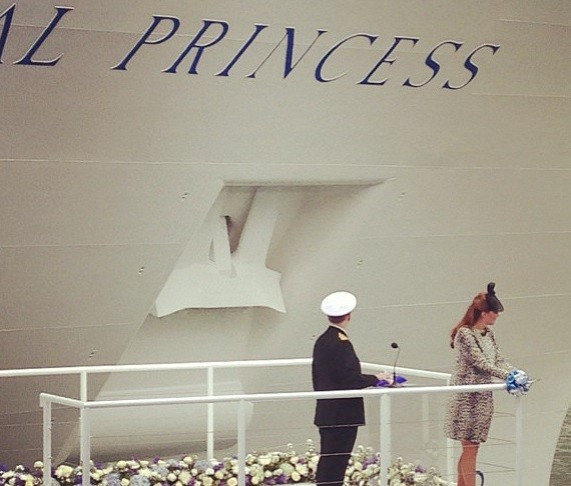 Kate is due to give birth in July and recent reports suggest she is planning to use hypnotherapy for the pain. Hypno-birthing is based on the idea that anxiety and fear increase the length and pain of labour.
A source told Grazia: "Kate has researched various birthing methods. She wants it to be natural, so hypno-birthing is one option that appealed and she had been reading up on it and listening to CDs to get into the right frame of mind.
"Some of her friends have used this method and swear by it. Kate wants to do it her way and be relaxed."
The duchess is expected to give birth in a private wing of St Mary's Hospital in Paddington, where Prince William was born.