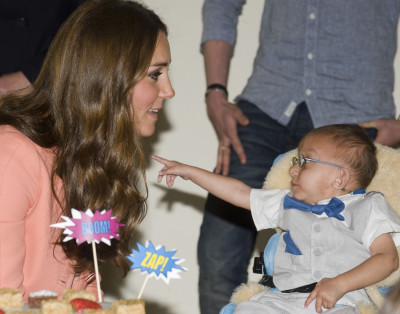 Kate Middleton has proven she has a natural way with children, demonstrated during her countless public appearances since marrying Prince William.
The Duchess of Cambridge is due to give birth at St Mary's Hospital in London on either the 13 or 14 June.
Kate is expected to take a hands-on approach to bringing up her little prince or princess, much as Princess Diana did with William and Harry. She would take the boys to school, on holidays and to theme parks.
Princess Margaret's biographer Christopher Warwick said: "William and Harry were very, very fortunate with Diana as a mother because her ideas were so different to the previous generation. The importance of this to her two sons has been enormous. William will want this for his children.
"[Kate's] childhood was pretty ordinary. She won't want her baby to be the subject of rules and protocol before they need to be."
As well as being a patron of the East Anglia's Children's Hospices, a charity that offers care and support to children with life-threatening illness and their families, Kate is also a dab hand at helping children with their outdoor pursuits.
She is a volunteer for the Scout Association and spends time privately with groups in North Wales, where she and William have lived for the past few years.
Prince William's cousin Peter Phillips recently spoke about how the couple will fare as parents with Max Foster, CNN's royal correspondent.
Phillips said: "First and foremost, everyone is ecstatic for both. They will make great parents and it's great to be able to welcome another child into the family, if not from a selfish perspective for my two girls to be able to grow up with a playmate.
"He or she will be under a great deal of scrutiny. That being said, both of the baby's parents are used to that and I think there is the structure and infrastructure around them all to be able to protect them to a certain extent."