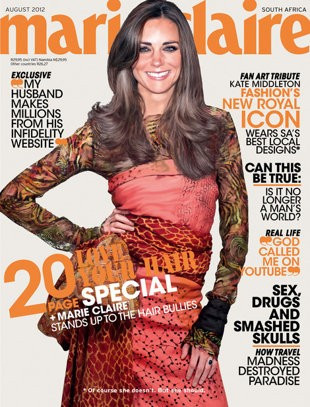 Kate Middleton is easily one of the most sought after fashion icons in the world and boasts of a string of followers that includes the likes of Hollywood's glamour girl Angelina Jolie. The Duchess of Cambridge enjoys so awe-inspiring a reputation in the world of high fashion and style that her wardrobe selection becomes news for several days and brands she is seen wearing are almost guaranteed to experience huge bumps in sales.
All this adds up to a name that any fashion magazine in the world would love to have on their cover. However, given Kate's position in the royal family, such is not really possible. Nevertheless, the South African edition of Marie Claire has hit upon a novel idea - to make Kate Middleton, the Duchess of Cambridge, the cover of their Fan Art tribute.
What this means is that the magazine has photo-shopped an image of the 30 year old Kate's face and hands onto a model's body; the model is wearing couture created by South African designer Clive Rundle. The photograph is rather glamorous with a smiling Kate posing with a hand on her hip and showing off shiny hair and glossy make-up.
"We were so inspired by her fairytale wedding and her life as a modern-day princess, which is why we elected Kate Middleton as our cover star for the August issue," Marie Claire editor Aspasia Karras told the Telegraph, "The cover is actually a hyper-real illustration of Kate, meant to be a fan art tribute to fashion's new royal icon."
The line below the Duchess' photograph indicates a connection with South African fashion: "Kate Middleton: Fashion's new royal icon wears SA's best local designers". However, the disclaimer below reads: "Of course she doesn't. But she should".
The cover appearance, such as it is, could create a few problems, though, particularly since the Duchess has often indicated she was not keen on being known as a fashion icon and famously turned down the offer by Vogue, made last year.
"The Duchess will not be doing anything with U.S. Vogue, or any other publications for the foreseeable future," a royal spokesperson told E!Online, while another representative said the Duchess was mmore interested in focusing on her royal duties.
"Both William and Kate feel it would be wrong for Kate to promote herself as a fashion or style icon. That's not what they are about and they take their royal duties far too seriously to, in one sense, trivialise them," a royal insider was quoted as saying in an earlier IBTimes UK report.
This is the third time this month Kate Middleton, the Duchess of Cambridge, has been subject to photo-shopping. The first was the cover of New Republic, which gave her the appearance of having rotten teeth with the headline: "Something's Rotten: The Last days of Britain" and the Daily Mail recently gave her a digital makeover, using M&S beauty technology, with bright red color and dark eye makeup.