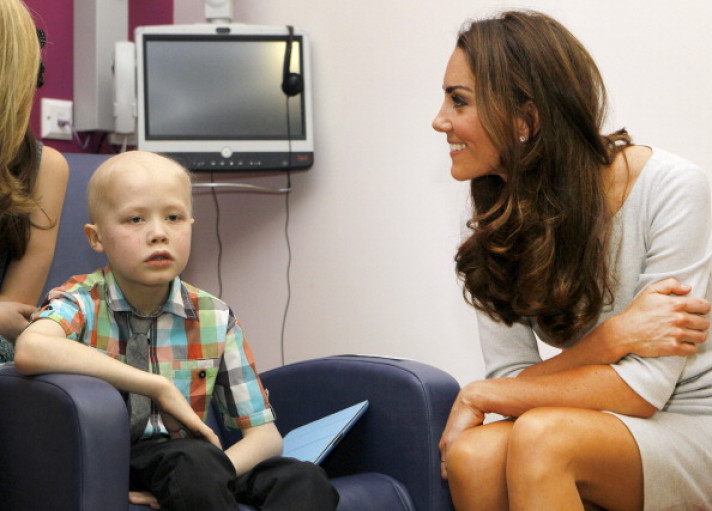 The Duchess of Cambridge has expressed her sadness following the death of a 12-year-old cancer patient who she met on a visit to the Royal Marsden Hospital.
Kate and William were opening a new children's wing at the Surrey hospital in 2011, when they first met the then nine-year-old Fabian Bate, who was suffering with leukaemia.
After the visit, the Duchess wrote a personal, hand-signed letter to Fabian, in which she described how she had been touched by his 'strength of character' and 'positive energy.'
In her note, written on St James's Palace headed notepaper, Kate said: "This must be a troubling time for you, your parents and your sisters, but I know I left the Royal Marsden assured by how incredibly talented, kind and clever the team at the hospital are. Combined with your belief and positive energy, you couldn't be in better hands."
Speaking in 2010 about his meeting with the Princess, Fabian said: "I asked Kate about the wedding — girls like talking about those things — and told her it made everyone very happy. She wrote that it was nice to meet me and she was keeping her fingers crossed. It was kind, but it made Mum cry a bit."
After three years of chemotherapy, Fabian went into remission in 2009, but the cancer returned in July 2011. After his sister Cassia was identified as a bone marrow match he underwent transplants.
In her letter, Kate expressed her delight at the news that a bone marrow match had been found for Fabian in his own family.
"I will keep my fingers crossed that your health goes from strength to strength over the months ahead," the Duchess added.
The royal couple sent two more letters to Fabian assuring him that he was in their thoughts.
Sadl,y Fabian lost his battle with cancer on Tuesday (11 November) and died at his home in Hampton Court.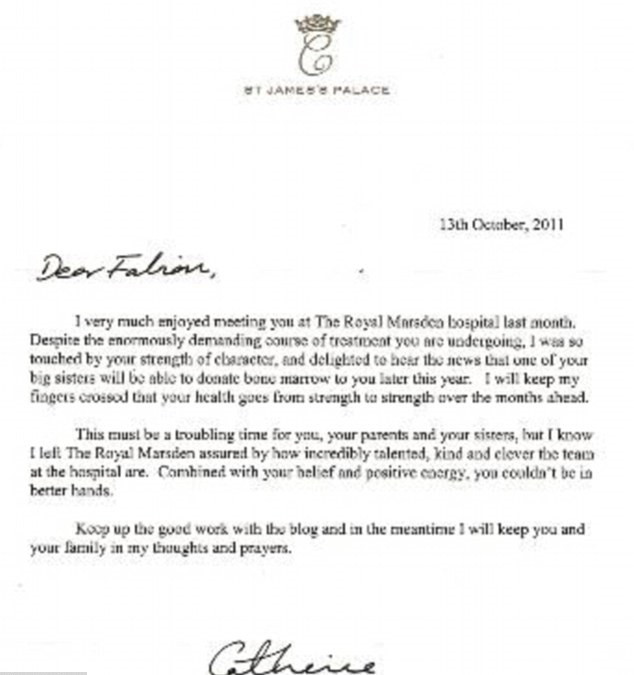 His parents Darrell and Lydia Bate described how the letter from the Duchess gave their son strength.
"'Just having the memory that the future King and Queen are rooting for you is pretty awesome to have in your armoury and for keeping your child going in the dark times," said Mr Bate.
Revealing that the letter had been buried with Fabian Mrs Bate said: "I want Kate to know that it wasn't just a letter, it was a message that meant so much. It has stayed with him and it is staying with him now that he is departed."
A spokesman for the royal couple said yesterday: "The Duke and Duchess are sad to hear the news and their thoughts are with Fabian's family."
The Duke of Cambridge took over as president of the Royal Marsden following his mother's death in 1997.