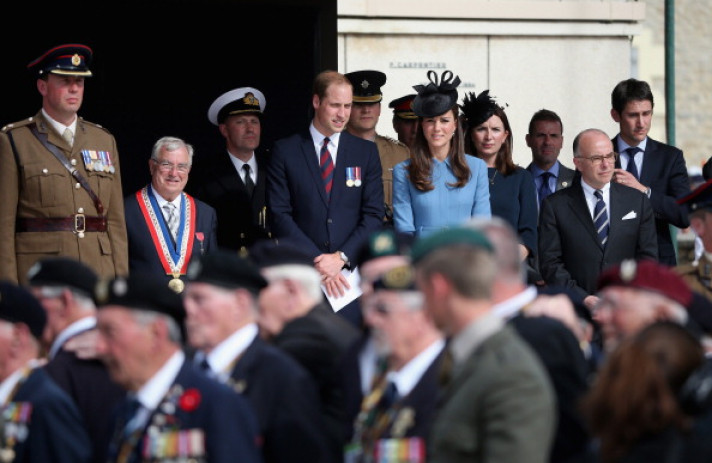 The Duke and Duchess of Cambridge met with British veterans in Normandy during the commemorations of the D -Day landings.
The royal couple watched a re-enactment of the D-Day landings after joining former soldiers for a tea party on the 70th anniversary of the allied invasion.
Dressed in a blue dress coat the Duchess appeared to be enjoying her time at the event in Arromanches, as she listened to stories from Second World War veterans.
The Duke of Cambridge made a speech during the memorial event in Arromanches-les-Bains, north west France paying tribute to those who gave their lives 70 years ago today.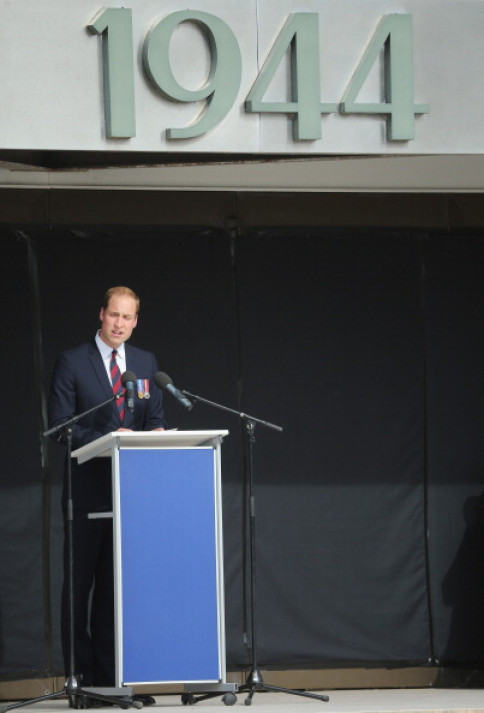 He said: "They gave up everything for our freedom. They lie now together in the beautifully kept cemeteries that lie on the coast.
"However, today is also about the young. It is vital for them that they remember the sacrifice made by so many."
Prince William then laid a wreath in the presence of hundreds of former soldiers. The royal couple stopped briefly to take in the view across the historic Gold Beach.
Earlier, the Queen led tributes to the "immense and heroic endeavour" of the 150,000 Allied troops who attacked Nazi-occupied Franceon June 6 1944.
She bowed as she laid a wreath during a poignant service of remembrance in Bayeux, the first town in Normandy to be freed from Hitler's grip.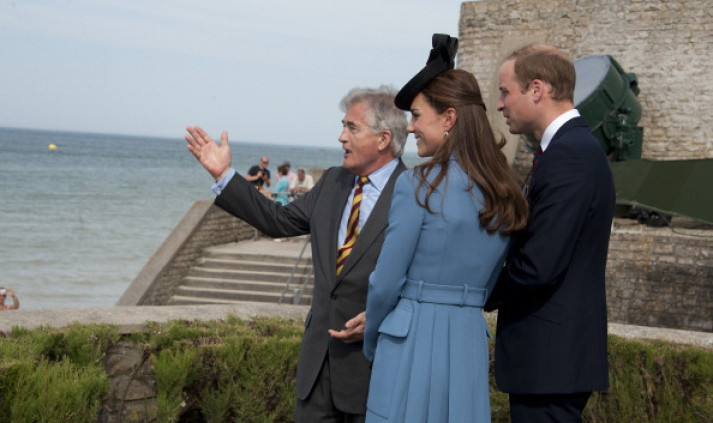 The Queen thanked the gathered veterans at the Commonwealth War Graves Commission Cemetery and said it was 'an opportunity to reflect on their experiences and the incredible sacrifices that were made'.
Ten miles away at the American War Cemetery in Colleville-sur-Mer, U.S. President Barack Obama paid tribute to those who sacrificed their lives for freedom.
Almost 10,000 U.S troops who died in the Second World War are buried at the site. "These men waged war so that we might know peace," Obama said. "They sacrificed so that we might be free."
The commemorative event ended with world leaders including President Obama, Russian President Vladimir Putin, The Queen and David Cameron joining World War II veterans for a firework display at Sword Beach in Ouistreham.