The Duke and Duchess of Cambridge received a Royal welcome as they arrived in Cambridge, New Zealand.
15,000 of the town's 18,000 population turned out to get a glimpse of the royal couple as they went on their traditional walkabout.
Dressed in a $3,000 wool-crepe emerald green Allie coat, by Turkish-English designer Erdem, Kate looked radiant, however she revealed that while she liked it "William thought it was bit bright."
Hamilton local Pam McCaroll, who had waited to meet the royal couple, showed the Duchess a small statuette of herself cradling Prince George as a newborn baby, much to the amusement of the royal.
"She said to me 'where did you get that!' and I told her I collected memorabilia. She laughed and I shook her hand."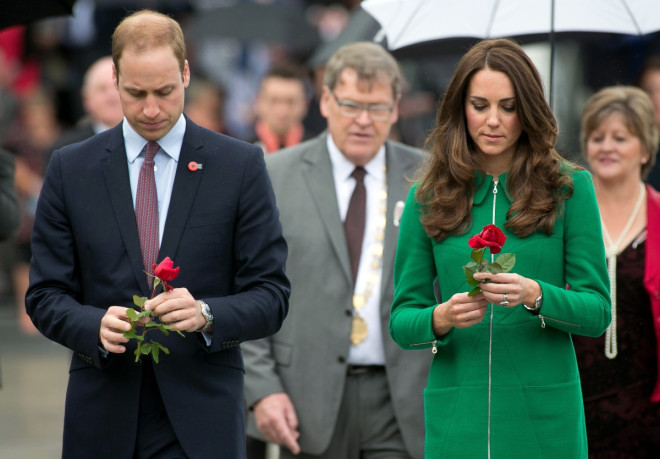 The royal couple had earlier paid their respects at a memorial to the town's war dead after setting off for separate engagements, with the Duke visiting an aeronautical company and the Duchess visiting a children's hospice, Rainbow Place in Hamilton.
As well as caring for terminally sick children the centre also offers help to youngsters who are grieving for a parent or have a parent with a serious illness.
Kate joined six-year-old Bailey Rupe whose mother has breast cancer, for a play tea party.
"Are you having tea? Can I sit with you? How is mummy doing? asked Kate."Do you find it difficult sometimes? Yes, I'm sure you do, but you're a very brave little girl," she added.
Speaking about meeting the Duchess, Bailey said afterwards: "I was excited to meet a real princess and it made me feel like a princess for the day too."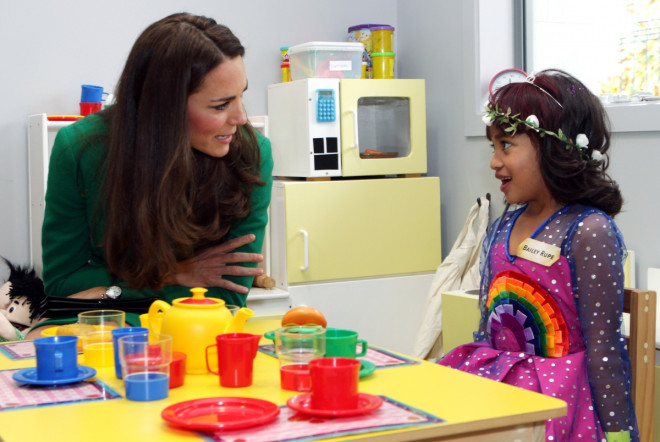 Another child cheekily asked the Duchess if even royals had to eat their greens. "Yes I do. I have to eat all my vegetables and so does George," the Duchess replied.
Middleton later rejoined Prince William for the opening of a new velodrome in Cambridge.
After meeting New Zealand's Olympic champions in cycling, rowing and canoeing, the couple were presented with a gift of a mini bike for Prince George complete with helmet and Lycra cycling shirt with his name emblazoned on the back.
Foounder of the bike firm Avanti, John Struthers, 76, said the royal couple were delighted by the gift. "They are very, very thrilled, he (William) was really appreciative of it. It gives two-year-olds independence and freedom to take their first big step in life. She (Kate) was looking forward to the time when George will be able to ride it."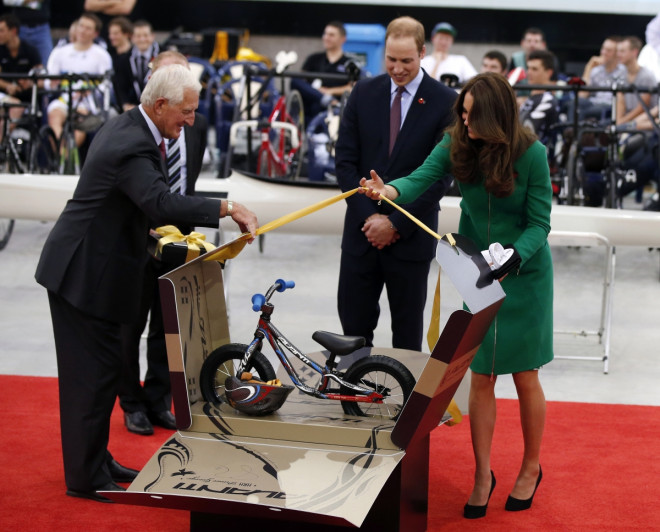 The Duke and Duchess are undertaking a 19-day official visit to New Zealand and Australia with their son George.