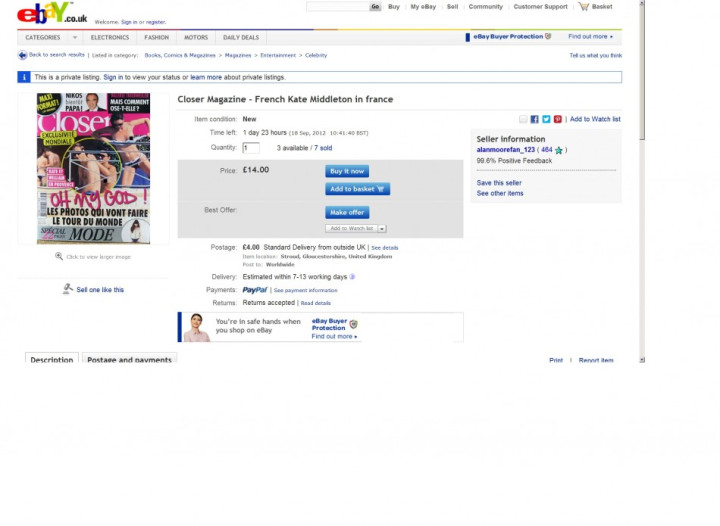 The fallout from the topless photographs of Kate Middleton first published by French gossip magazine Closer (and since then re-published by media houses in Italy and Ireland) continues.
Copies of the magazine, which contains photographs of the Duke and Duchess of Cambridge on holiday at a friend's chateau in France, are available at grossly inflated prices on eBay.
The Sun reports that these copies have begun to attract a number of bids and are selling for sums far greater than their retail price. For example, one copy - placed on sale by a user called "althebikerboy" - sold for £31.01 and will be posted from Preston, South Ayrshire.
Users are clearly looking to make considerable profit from the worldwide media attention that has descended on the matter, with some offering multiple copies and advertising the photographs as "banned". Another copy, placed on sale by 'alanmoorefan_123" is being offered for £14. More copies are available for purchase from a user called "pghulme", for £13.99. Each of these users has sold multiple copies so far.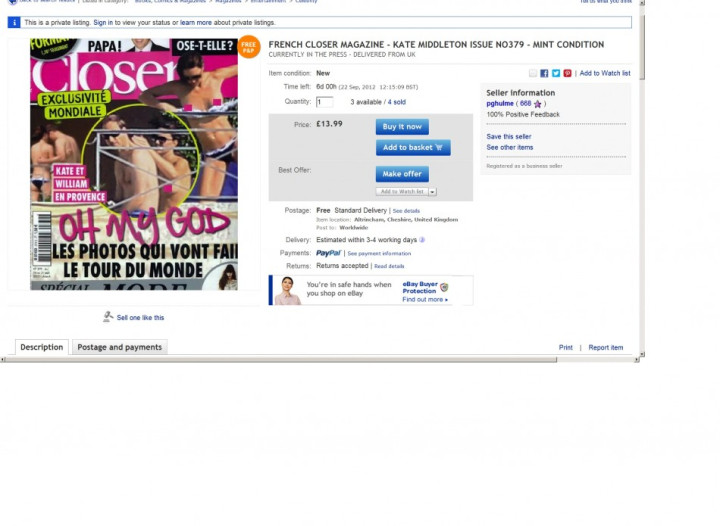 The magazine is also available via local eBay websites across the world, with eBay.com showing a listing from France for $7.22 (approximately £4).
Prince William has already spoken out against both Closer and other media sources that publish these photographs and the understandably furious Duke of Cambridge has claimed he will do everything he can to protect his wife. The royal family has already announced its decision to sue the French magazine and a statement from St.James' Palace called the publication of photos a "grotesque and totally unjustifiable" invasion of the couple's privacy.