The Duchess of Cambridge is hailed as a style icon the world over, but the royal is apparently determined not to be regarded simply as a "clothes horse."
Vogue editor Alexandra Shulman, scored a casting coup after featuring Kate Middleton on the cover of the June 2016 issue to mark the 100<sup>th anniversary of the fashion bible. Describing Kate's status as a fashionista, she revealed that the royal does not want to be perceived as just as "silent mannequin."
Speaking on the ITV programme Lorraine, she explained to presenter Helen Skelton that the Duchess did not want to be photographed in high fashion as she turned cover star.
"I can't really speak for her but in my experience it was I think it was very much her feeling that she wanted to be what she felt she was comfortable with being," Alexandra said.
She added that Kate's style contrasts to Princess Diana who always opted for a glamorous style for her Vogue covers.
"She is not a clothes horse," Shulman explained. "The idea that she is a kind of silent mannequin that just wants to put on expensive clothes is so not what she is. And I think she wanted this cover to reflect that."
The Duchess was snapped by British photographer Josh Olins on the grounds of her Anmer Hall home in Norfolk. The mother-of-two looks effortlessly stylish, in a brown suede jacket with a white shirt by Burberry and a vintage green hat in the casual images that capture "country girl Kate".
Shulman, 58, also revealed that Kate had initially turned down the request to be a Vogue cover star.
"Probably every magazine in the world had asked her if she would be on the cover, I should think," she said. "I had certainly asked her before. And it was only when I was writing to her saying: 'It's our centenary, it's our 100 years of Vogue and we do have kind of a history of being able to feature the royal family' that I realised we had another connection."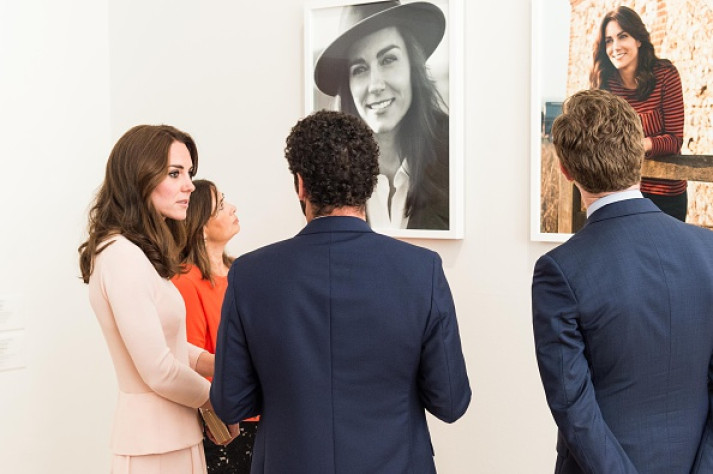 The iconic images were also featured in an exhibition of Vogue covers at the National Portrait Gallery, of which Kate is the patron.
"It ticked the box and yes it happened. It was the best new when I heard she was going to be on the cover."
While the historic cover made global headlines, it's a surprise to find that it wasn't the biggest-selling issue of the year. It was the issue in the key fashion month of September in which model Cara Delevigne graced the cover that won that accolade.
"Yes she did very very well for us but actually she wasn't the best selling issue of the year," Alexandra told Woman's Hour. "But that's not because of Cara Delevingne it's because it's the September issue and everyone wants to buy Vogue for fashion, so you can't really judge it that way."
Kate's turn as cover star was nevertheless described by PR experts as "astronomical." reports.
"Money can't buy that sort of publicity," PR expert Mark Borkowski told Mail Online. "It's beyond monetary value, because she's a celebrity in the US and a global icon."