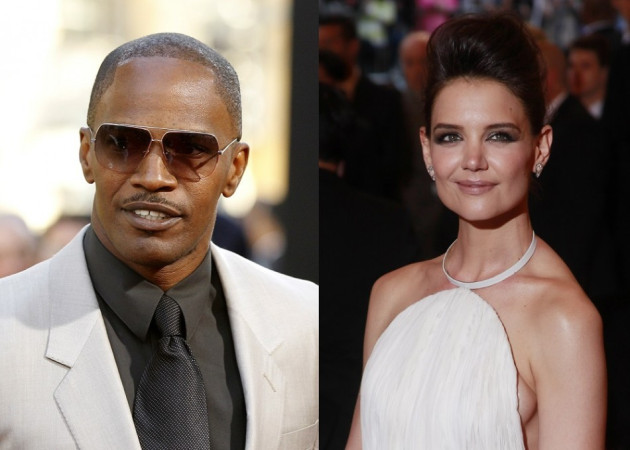 Katie Holmes has denied rumours that she enjoyed a brief romance with Jamie Foxx, the long-time friend of her ex-husband Tom Cruise.
The 34-year-old Dawson's Creek star was forced to address mounting speculation that she had hooked up with Foxx after a story published in Us Weekly claimed that Cruise felt "betrayed" by their fling.
Her representative slammed the reports as not true and told MailOnline that the pair had never had a tryst.
According to reports, Cruise, who struck up a friendship with Foxx after they starred together in the edgy 2004 crime thriller Collateral, was shocked to find out that Foxx had been romantically involved with his former wife.
"Tom was not happy," a source said. "He doesn't care if it was just a hookup. To him it was betrayal."
Another source countered: "He's living his life being Tom Cruise. He doesn't care what Katie Holmes does."
Things heated up between Holmes and Foxx after they flirted at the Night of Legends party in the upmarket Hamptons region of New York state in August, said gossips.
An eyewitness claimed that Holmes was dancing with the Django Unchained actor and drank from his cocktail glass.
Foxx had previously branded the rumours as "hilarious" and insisted that the pair were just good friends.
"We simply danced at a charity event along with a lot of other people," he said.
Neither Holmes nor Cruise has been in a relationship publicly since they ended their six-year marriage in June 2012.
It had been suggested that Cruise has evoked a strict criteria for potential girlfriends in the wake of his divorce.
Ideally, he wants his partner to have been a member of the Church of Scientology for at least five years and to work in the entertainment industry.
"Tom needs to be strict about his criteria because he wants to avoid a disastrous match and he needs them to understand his hectic lifestyle and all that comes with it," a source told Grazia.