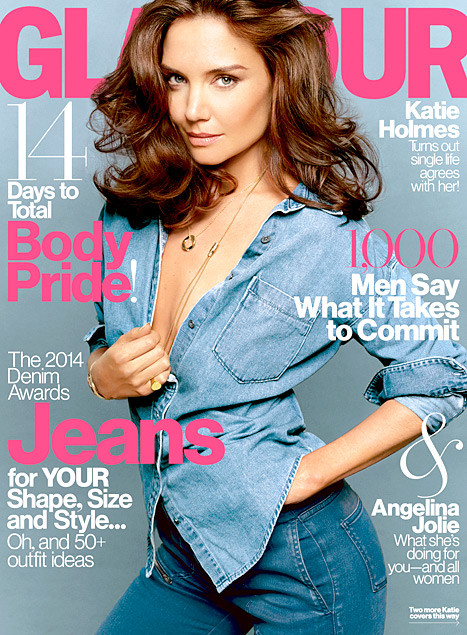 Following her split with Tom Cruise, it looks like Hollywood actress Katie Holmes has finally gotten her sexy back.
The 35-year-old beauty, who divorced the Mission Impossible star in 2012, has gone topless for the August issue of US Glamour magazine.
In the racy spread the mother-of-one says goodbye to her good-girl Dawson's Creek character and poses in nothing put some comfortable jeans. Her brunette tresses fall in waves on her shoulders as she uses her arms to protect her modesty.
"I have a tightly edited closet. I like what I like. And I repeat a lot. But I'm always comfortable in jeans - I feel like I can really do anything when I'm in them," she says of her style.
The cover image, while more covered up, is equally racy. She gives the camera a seductive gaze as she pulls down her open shirt to reveal she has once again gone braless.
And it looks like it is the same self-confidence that has helped the single star after her five-year marriage ended. .
"I am really focused on motherhood and work right now," Holmes said. "Motherhood is the greatest gift.
"My parents always treated me the exact same way at home and reminded me of gratitude. And that's been a grounding force."
And what has been the change to her life after the divorce?
"I didn't know how much love I had in me. It's overwhelming. Every day I discover more about this spectacular human being I get to be the mother of."