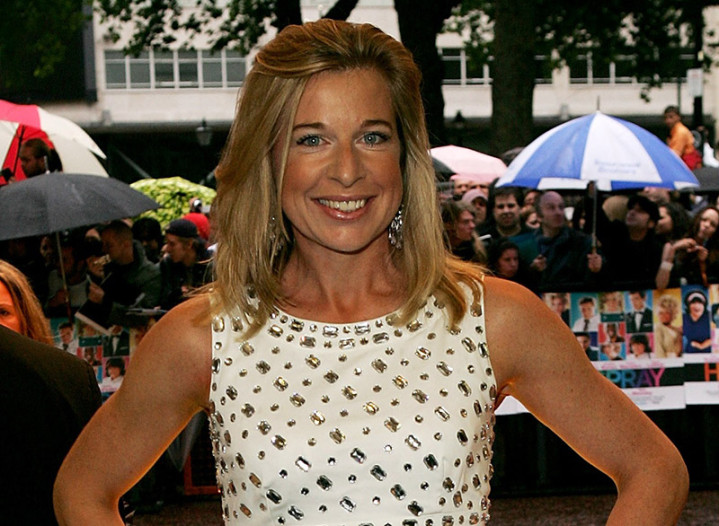 Katie Hopkins has added Mariah Carey to her growing list of enemies by criticising the singer's weight.
The former The Apprentice star hit out at the Hero songstress after seeing a picture of her performing in China, during the Asian leg of her Elusive Chanteuse World Tour.
In the offending snap, Carey can be seen in a gold, embellished top with matching micro miniskirt. The singer's underwear can clearly be seen in the picture, which was taken from below.
Hopkins, 39, soon slated Carey's revealing outfit on Twitter and urged her to join her on a diet.
This is the latest in a long line of nasty comments aimed at fellow celebs to come from Hopkins, who has been given the nickname 'rent-a-gob' by the British media.
IBTimes UK recaps some of her bitchiest offerings to date.
Katie Price
Hopkins was less than impressed after discovering that former glamour model Katie Price had given her baby girl an unusual moniker.
She was given extra ammunition as Price was trying to save her marriage to her husband Kieran Hayler, who had reportedly cheated on her with two of her best friends at the time.
Lily Allen
Hopkins launched a vicious attack on singer Lily Allen, when her song URL Badman sold just 905 copies in its first week.
Writing for The Sun newspaper, Hopkins said: "I was sad to hear Lily Allen's latest single has sold fewer copies than my local Big Issue seller does in magazines in a day.
"I'd say stick to being a mum but she finds it boring. I'd say stick to running a shop but that went bust. I'd say stick to being a wife but she's on the dating app Tinder now and has binned her married name because she realised it was daddy's name which made her famous."
Peaches Geldof
Hopkins originally criticised the late Peaches Geldof for her beliefs in attachment parenting - a philosophy based around the emotional bonds formed between a baby and its caregivers - via her column in The Sun newspaper.
The pair then met for the first time face-to-face on the TV show This Morning, where they debated live on air.
Among the many comments Hopkins made about Geldof, Hopkins said, "She likes Attachment Parenting until her baby is on the floor on the pavement!", referencing the time Geldof's baby Astala fell out of a pram and made front page news.
Watch the whole debate here:
Is There Anyone who Katie Hopkins Likes?
In a video for Heat magazine, Hopkins was asked to give her honest opinion on a host of different celebrities.
Here is some of what she had to say:
Lily Allen (Again!)
"She was removing herself from the spotlight because she wanted to be a mother, and that largely involved, I think, gaining two stone and looking pretty hideous."
Allen hit back on Twitter, defending her weight gain and explaining that her unborn child's health was more important than a few pounds on the scales.
Kim Kardashian
"She of the large arse, I don't really understand what the attraction is with Kim, she is one large bottom.
"And I don't really think being known as one large bottom is that great, I'd rather be known as the biggest b*tch in Britain, frankly. Kim has a daughter called North; I think that says everything, doesn't it? Especially when your career is going south."
Kelly Osborne
"As a little purple-haired dwarf, I think she ought to get her priorities sorted. She's got the face of a bitter lemon. She's got this disgusting language, it's really guttural, and I really don't enjoy it. And I really question what her purpose is on this planet, apart from having pastel coloured hair."
Justin Bieber
"My prediction for Bieber was that he'll be up next on a wrecking ball licking an adjustable spanner. I think that may be in the offing for Belieber.
"Or go the [Lindsay] Lohan route and just spend the rest of his days in and out of rehab. Or he could go the full [Amy] Winehouse, and that will be the end of Bieber."