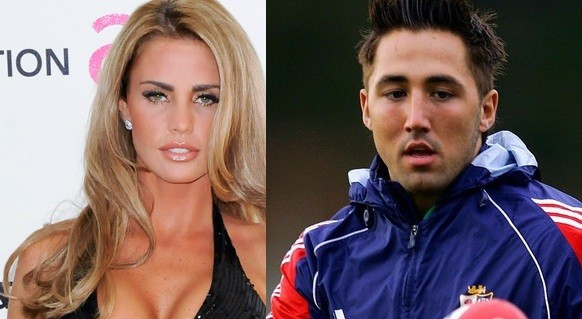 Just weeks after splitting with her Latin lover Leandro Penna, Katie Price has already got herself a new man, according to reports.
The former Page 3 star is said to be dating Charlotte Church's ex-fiancé, rugby ace Gavin Henson.
The couple were spotted holding hands in a restaurant after a photoshoot together.
Wales player Henson became a hot topic on Twitter after the photographer who worked with the duo wrote online: "Just finished the Jordan/Gavin Henson job. That was insane. Fair to say - he pulled!"
Amy Griffiths, who saw the couple in Balans restaurant in Soho, central London, tweeted: "Gavin Henson turned up in Balans, asked him why he was in London and he said, 'To find a girlfriend' Pah!"
She later added: "Gavin Henson and Katie Price? Really?"
A source told the Daily Mirror: "Gavin is Kate's type. She has fancied him for years.
"They got on well at Mahiki [a club]. She squeezed his arms and started 'phwoaring'. They spent most of the night in the club's private room."
Henson, 30, split up with Church in May 2010, two months after announcing their engagement. The couple had two childrfen, Ruby, five, and Dexter, three, together.
Price, also known as Jordan, was previously married to Peter Andre and to Alex Reid before she got engaged to Argentinian Penna in April.
She called time on their two-year romance in October saying: "Leo and I have had a lovely fun time for a couple of years, we will always feel deep affection for each other, but sometimes relationships just run their course."