Katy Perry refuses to back down in her feud with Taylor Swift. In a candid new interview, the Bon Appetit singer accuses Swift of "character assassination" and vows to continue defending herself against her rival.
In May, Perry, 32, spoke to The Late Late Show host James Corden about the bitter row, which began in 2014, and urged Swift, 27, to end the bad blood.
Now speaking to NME about whether her message of unity is contradictory given her previous comments about Swift, Perry said: "I said that but, I mean, I'm not Buddha – things irritate me. I wish that I could turn the other cheek every single time, but I'm also not a pushover, you know? Especially when someone tries to assassinate my character with little girls [their respective fan groups]. That's so messed up!"
The feud reached a climax in 2014 when Swift released the number one single Bad Blood, widely said to be about Perry.
The track was co-written by Max Martin, a pop super-producer who has worked extensively with Perry throughout her career. Discussing Martin's alliance with Swift, Perry insisted: "I can't speak for him, but he didn't know [who 'Bad Blood' was about]. I'm not supposed to tell him what he can and can't do."
The Dark Horse singer continued: "I'm very fair; I'm super-duper fair and I'm not one of those people who's like, 'You can't do that because I don't like that person'. Just, like, you do you, make your own choices. I love Max. I've been working with Max my whole career. I'm not his mother and he was fine before I met him, you know what I'm saying? He'll be fine continuing."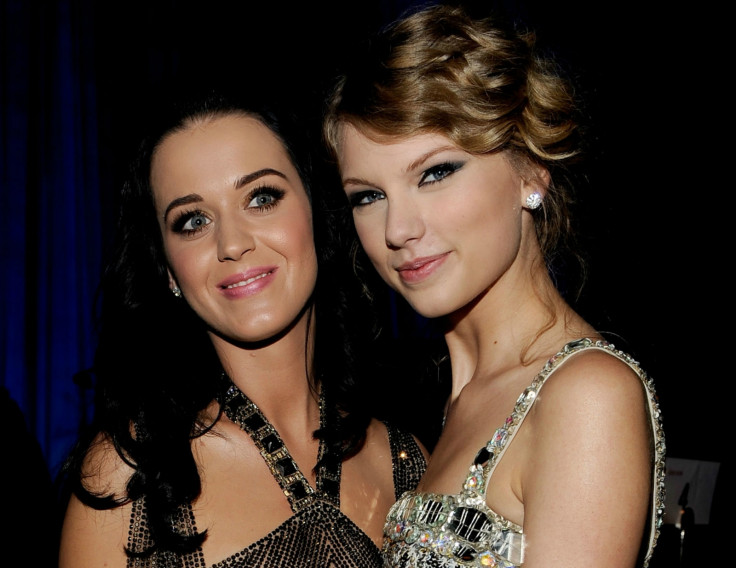 Despite the unwavering public attention over the fallout, Swift has never commented on the feud publicly. However, her close friend, model and actress Ruby Rose jumped to the singer's defence in May when Perry appeared to throw shade on the song Swish Swish.
Sparking intense backlash from Perry fans, Rose tweeted: "Purposeful poop' to 'bomb a petit' to a sloppy mess of writing over the top of Funkagenda..stop trying to make 'Wit..I mean 'fetch' happen. I just think with everything going on in the world to go from rebranding as political activist only to ditch it and go low.. is.. a bummer."
Listen to Taylor Swift's Bad Blood: