Sony is a company with a fine tradition of delivering innovative and era-defining products which change the way people use and interact with the world around them.
From the Sony Walkman in 1979 and the Compact Disc three years later to the original PlayStation in 1992, Sony has consistently introduced products which have defined the consumer electronics market.
It has also however had a few failures, the most high profile of which was Betamax, the home video system which went head to head with the JVC-developed VHS back in the 1980s - and lost.
But Sony's current CEO Kaz Hirai doesn't see this as a problem: "At Sony failure is not really an end, it is a reasons to keep trying."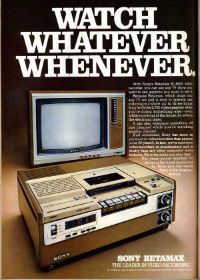 Speaking during his CES 2014 keynote in Las Vegas today, Hirai referenced the failure of Betamax, drawing attention to the slogan it used in its advertising campaign - "Watch Whatever Whenever"
It is, Hirai says, a goal which we are still striving to achieve despite the plethora of entertainment services and devices available to people today.
Hirai said people are still searching for "freedom" and "choice" in their entertainment experiences, and "continue to be driven by the desire to have access to watch whatever, whenever."
Deeper connection
But simply building more boxes and more services will not solve this problem Hirai said, and companies like Sony need to make a deeper connection with their customers:
"In an enterprise that makes things, we must make that connection with people. It is not just functional value that people desire but the deeper emotional value."
In Japanese culture this way of thinking is called Kando, meaning to move people emotionally or as Hirai puts it, giving people the wow factor - something Sony had forgotten about in recent years.
While cloud-based services like the company's recently announced PlayStation Now cloud-gaming service are great, Hirai says it is not the technical feat of producing console-quality games on you phone that is the wow, it is the reaction of people to the service itself that Sony is looking for.
Deliver that Wow
"I expect all Sony employees to put wow at the centre of their efforts. We don't consider any product a success if we don't deliver that wow," Hirai said.
However Sony's CEO believes the company has gotten back on track in recent years, producing products like 4K televisions, high resolution audio, the Xperia range of smartphones, and the PLayStation 4.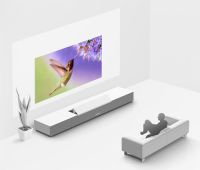 The next step however will see Sony attempt to create a whole new way of experiencing the world around us - something Sony calls Life Space UX.
The first product to launch under this new brand will be an Ultra Short Throw Projector (left) which aims to create "a windows to the world" on the wall of your living room.
Built into a low cabinet, the projector will sit very close to your wall but will be able to project a 147in Ultra HD image or video.
Sony envisions it as a window onto the world, so that when you are not watching television you could project a street scene from the other side of the world in real time and life size - or if you are a surfer you could project live images of your favourite surfing spot.
Constrained by boxes
It will also lead to more immersive live experiences says Sony, meaning watching live sports events or concerts will be more like being at the event itself.
The Ultra Short Throw Projector is the beginning of Sony's aim to move away from being constrained by boxes, with the company also planning on launching a laser projector which will transform any surface, such as your dining room table, into an interactive screen.
Hirai believes it is "time to move beyond the just good enough era" and that Sony must and can do better. To do this, he wants his employees to "take risks and make great products. Follow their passions."
Hirai is clearly passionate about what he calls "the power of wow" but it will be Sony's customers who will ultimately if the company is producing the type of product which will leave them speechless.
For all IBTimes UK coverage from Las Vegas, make sure to visit our CES 2014 hub.