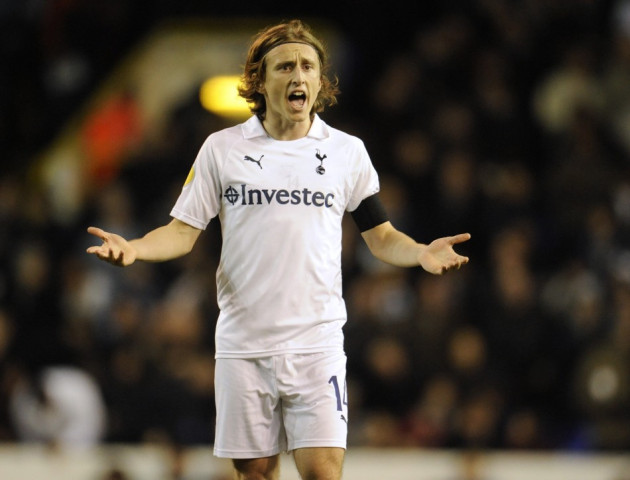 Robbie Keane has backed Chelsea and Manchester United target Luka Modric to stay at Tottenham beyond the end of the season, and insists a move away from White Hart Lane could stunt the playmaker's career.
Former Tottenham striker Keane made a return to the Premier League this week, when he joined Aston Villa on a seven-week loan deal from LA Galaxy.
And the Republic of Ireland international believes Modric - who has been linked with moves to both Manchester United and Chelsea in the last 12 months - is better off staying in north London with Tottenham.
"I'm looking at Chelsea trying to get Luka - it's going to be very difficult now to convince him to go there because it's looking like Spurs have overtaken them," said Keane.
"There are top, top players in that Spurs squad. And they are proving it. Harry has had them doing it for a couple of years and you can now see them gelling together."
Tottenham are third in the Premier League, level with Manchester United on goal difference and just three points behind leaders Manchester City.
And Keane remains adamant that Modric, whose hopes of joining Chelsea in a £27m deal were blocked by Spurs' chairman Daniel Levy in the summer, is more likely to win trophies if he stays.
In June, Tottenham rejected an initial £22m bid from Chelsea only for Modric to publicly state is desire to leave north London.
"I would like to go to Chelsea. A lot of players would like to go there and play for Chelsea because it is one of the best clubs in the world, and so do I. I would like to play there. But we will see what will happen."
Yet with Chelsea trailing Spurs by eight points and the Blues facing a fight to secure a Champions League place next season, Keane has implored is former team-mate to stay put.
"They [also] have strength-in-depth. If you are leaving the likes of Jermain Defoe on the bench, you must have a strong team because you know he's going to score goals."
"But if you look at their performances over the last 12 games or so, they look like a team that can stay there for some time. They will challenge for the title. There's no question of that.
"The players' performances suggest they believe it, too. Winning is a habit. If you look at the squad, Harry has built it up and he's got players who can fill in every area."
Keane, who trained with Harry Redknapp's Tottenham squad prior to his move to Villa, also revealed he was looking forward to playing the Premier League again.
"I'm here for seven weeks and this will be a good challenge. I took calls from a few clubs but Villa is the one I felt most comfortable with.
"I'd like to make an impact, but what sort of impact can you make in such a short time? Hopefully it will be a good one. I hope it works out well for both parties.
"But whatever happens, I've got no plans to come back to the Premier League. It's just something that suits everyone at the moment.
"I've had a good career in the Premier League and scored a lot of goals. I don't think people's opinion will change of me in that time. So, I don't see that I'm taking a risk by coming back."