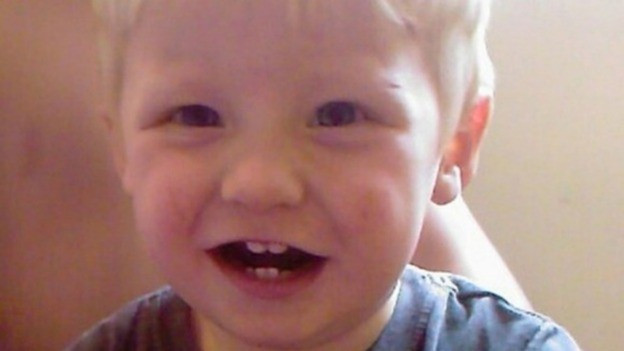 A toddler who was killed after months of cruelty at the hands of his mother died after numerous authorities "collectively failed" to protect him.
A Serious Case Review into the death of two-year-old Keanu Williams also said agencies missed "a significant number of opportunities" to intervene to save the boy.
Keanu died after he was found unconscious at a flat in Ward End, Birmingham in January 2011. A post-mortem revealed he had a total of 37 separate injuries at the time of his death, including a fractured skull, torn abdominal and burns to his feet during the "brutal and sustained attack".
West Midlands Police described the case as one of the worst examples of child abuse they had seen.
Keanu's mother Rebecca Shuttleworth, 25, from Manchester, was given life with a minimum of 18 years for murdering her son. Her former partner Luke Southerton, 32, received a nine-month sentence, suspended for two years, for one count of child cruelty. He was previously cleared of the murder.
The review, published by the Birmingham Safeguarding Children Board (BSCB), concluded that no-one could have predicted the boy's death, but agencies involved in protecting Keanu could have seen he was "likely to suffer significant harm".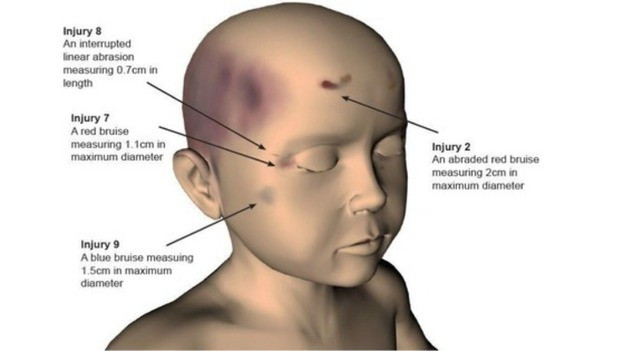 The toddler should have also been the subject of a child protection plan on "at least two occasions" to address claims of physical harm and neglect.
Social services were tipped off about Shuttleworth when she first moved to Birmingham. Authorities were told she would leave her son in soaking wet clothes and dirty nappies for hours, never sterilise his bottles of milk and would leave him with anyone she could find when she wanted to go out.
The review also found that the excuses Keanu's mother gave for his injuries when he went to hospital should have been dismissed, including one burn to his foot.
All of Keanu's injuries were explained by his mother as "bumps and falls due to unsteadiness".
The report said: "The last hospital presentation involved a child protection medical assessment which was not undertaken in accordance with good practice standards.
"Keanu was returned to Shuttleworth's care with a burn to his foot believed to have been caused accidentally by a hot radiator.
"Based on the medical evidence, this conclusion was mistaken and therefore Shuttleworth's description on the 'accident' was not deemed credible."
A month later, a nurse noted a number of bruises and marks on Keanu's body, but took the mother's explanation that they were all accidental "at face value". Keanu died four days later.
The report cited a series of failings including: "Poor communications within agencies, a lack of analysis of information as well as a lack of professional curiosity in questioning the information, a lack of confidence among professionals in challenging parents and other professionals, short comings in recording systems and practice.
"Professional over optimism rather than to respectfully disbelieve and dealing with events as one-off episodes."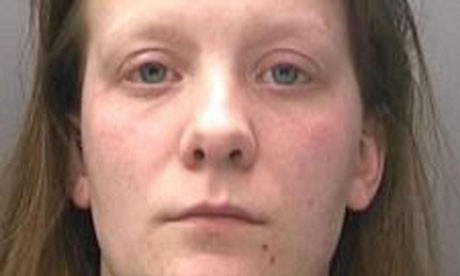 Jane Held, from the Birmingham Safeguarding Children Board, apologised "unequivocally" on behalf of the departments who had failed Keanu for "totally unacceptable and unnecessary failures".
Held added: "Keanu died because people missed opportunity after opportunity to intervene, and do something decisive to ensure he was safe and properly cared for.
"Some staff did their best for Keanu but some staff did not comply with required practice, processes and procedures. Those staff have already been held to account for this by individual agencies.
"It is absolutely clear that if everyone had known what others knew there may have been a very different outcome."
Peter Hay, strategic director for children, young people and families at Birmingham City Council, said the case brings "further blight upon this city's reputation".
He added: "We have failed to meet the basic expectation that our children are safe. For this we are unequivocally sorry. We accept too, that given our record in failing to improve children's services that our apology may ring hollow and any assurance of lessons learnt or other such statement is meaningless."
Dr Hilary Emery, chief executive of the National Children's Bureau, said the review "starkly demonstrates" the consequences of recent reforms to child protection, including overly bureaucratic process, lack of individual responsibility and no one supporting the interests of the child.
Emery added: 'It is particularly worrying that the review found that no conversations were held with Keanu to find out what he was feeling. No child at risk should ever be only seen and not heard. We urgently need to review how best to support children within the child protection system - especially the very young ones - to ensure their voices are listened to at every opportunity."
The reports arrives weeks after a Serious Case Review into the death of Daniel Pelka, who died after being beaten and starved to death by his mother and stepfather in Coventry.