A video showing the moments leading up to the shooting of Keith Lamont Scott by police does not settle the question of whether or not he was carrying a gun.
The mobile phone video, taken by Scott's wife Rakeyia, is the first publicly available footage of the events before the shooting, which has caused days of protest in Charlotte, North Carolina.
Scott was killed by police on Tuesday (20 September) as they were looking for another person to serve a warrant on. Since the incident, two different versions of events have emerged.
Police say that when they approached Scott's white SUV, he emerged from the vehicle armed and "made an obvious threat to the officers". They also say a gun was recovered from nearby Scott's body.
However, Scott's family claim that he was waiting in his car to pick up his son from school and was reading a book – possibly the Koran, the Islamic holy book.
Officer Brentley Vinson, who shot and killed Scott, was not wearing a body camera at the time of the shooting. However, three other officers at the scene were.
Police Chief Kerr Putney has said he has no intention of releasing the police video and giving a public airing to "a victim's worst day" despite pleas from Scott's family.
Putney has said that the police video supports the police account of the shooting, but does not show "absolute definitive, visual evidence" of Scott carrying a gun.
The opening moments of the video taken by Rakeyia Scott, which lasts 2 minutes and 12 seconds, show shaky images of grass and a voice can be heard shouting, "Hands up."
As she walks towards her husband, Mrs Scott can then be heard saying: "Don't shoot him. He has no weapon. He has no weapon. Don't shoot him."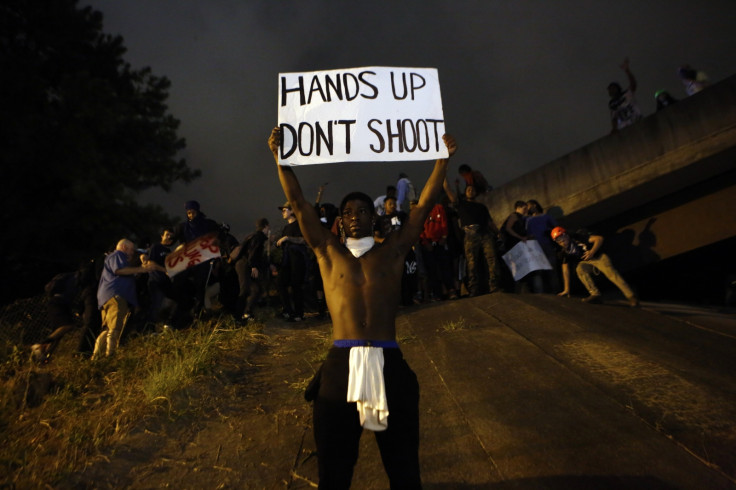 An officer can then be heard yelling: "Gun. Gun. Drop the gun." A police car with lights flashing arrives, obscuring the video's view, and a uniformed officer gets out. From that point, there are five officers, most of whom appear to be wearing body armor over plain clothes, around Mr Scott.
"Don't shoot him, don't shoot him," Mrs Scott can be heard saying. "He didn't do anything."
Officers continue to yell "drop the gun" or some variation of it — at least 12 times in 38 seconds.
"He doesn't have a gun," Ms. Scott said. "He has a TBI (traumatic brain injury). He's not going to do anything to you guys. He just took his medicine."
"Drop the gun," an officer shouts as Mrs Scott trys to explain her husband's condition. The officer then says he needs to get a baton.
"Keith don't let them break the windows. Come on out the car," Mrs Scott says, as the video shows an officer approaching Mr Scott's vehicle.
"Drop the gun," an officer shouts again.
Mrs Scott yells several times for her husband to "get out the car", but on the video, he cannot be seen through the window of his car.
"Keith, don't do it," Mrs Scott shouts, as the video showed her backing away and panning to the ground.
In the final moments before the shots the camera pans back and Mr Scott can be seen, still unhurt standing between the vehicles and police.
As the four shots are heard, the video pans quickly away from the scene.
"Did you shoot him? Did you shoot him?" Mrs Scott shouts. "Did you shoot him? He better not be [expletive] dead."
"I'm not going to come near you. I'm going to record, though," Mrs Scott said. "I'm not coming near you. I'm going to record, though. He better be alive."
The video shows Mr Scott lying face down with officers standing and kneeling around him.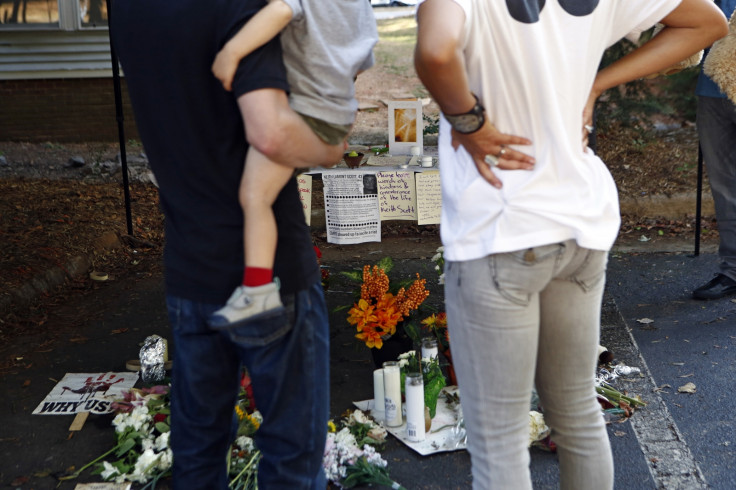 The video, which was shown to The New York Times by lawyers representing the Scott family, does not establish whether or not the shooting was justified.
"It offers another vantage point," Justin Bamberg, who is acting with Eduardo Curry for the family, told the Times. "Right now, we don't have enough facts to say whether this shooting was justified or unjustified. That's what we're trying to find out."
Protest riots
Scott's death sparked days of protests in Charlotte. On Wednesday, a man was shot in what authorities called a "civilian-on-civilian" incident during protests and on died Thursday, police said.
Dozens were arrested, windows of businesses were smashed, and the governor activated the National Guard and the mayor ordered a curfew.
Democratic presidential candidate Hillary Clinton on Twitter also called for the police to release the videos.
"We've seen a video, but it didn't show him actually getting shot and that's a sad situation," said John C Barnett, a civil rights leader in Charlotte.
"Charlotte, you got to be transparent. Chief of police, you got to be transparent. And yet we're still dealing with a video hold," Barnett said during a news conference held on Friday (23 September).