Middleweight fighter Kelvin Gastelum has accepted a suspension with his win over Vitor Belfort at UFC Fortaleza being overturned as a result.
Gastelum defeated Belfort in Brazil via first round TKO on 11 March and proceeded to challenge Anderson Silva shortly afterwards.
The fight was made official soon after for UFC 212 on 3 June, however, the 25-year-old would later be pulled from the event for testing positive for marijuana metabolites, leaving "The Spider" with no opponent.
Gastelum was flagged for "Carboxy-Tetrahydrocannabinol (Carboxy-THC) which is a metabolite of marijuana and/or hashish" and was placed under provisional suspension.
But now, the Mexican-American has been retroactively suspended for 90 days as of 11 March as the Brazilian Superior Justice Court of MMA announced on Sunday (7 May) that his win over Belfort would also be overturned.
In addition, Gastelum, who now has a 13-2-1 record in MMA, would also have to pay 20% of his fight purse that he earned from the original win.
Shortly after the news was confirmed, he took to Twitter to announce that he had accepted the suspension but that he would also never fight in Brazil again.
"Suspension accepted, but I will never fight in Brazil again," Gastelum wrote. "All they want is [money]."
The Ultimate Fighter winner is still eyeing a fight with Silva however, having recently offered his apologies to the former middleweight champion and proposing that they fight in New York at UFC on FOX 25 on 22 July.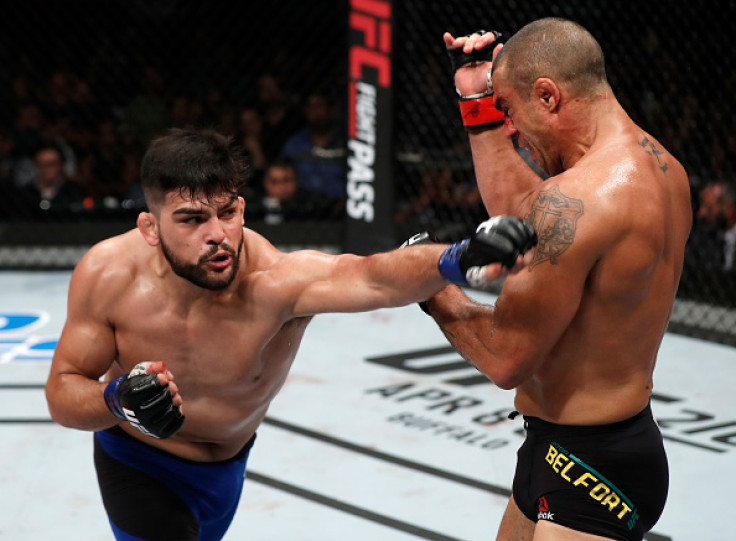 If accepted, it would fit right into the timeline with Gastelum's suspension ending more than a month before the event.