Kent Police urged to investigate Nigel Farage expenses from 2015 election in South Thanet
Group allege that Farage's campaign failed to declare £26,302, more than £10,000 over legal limit.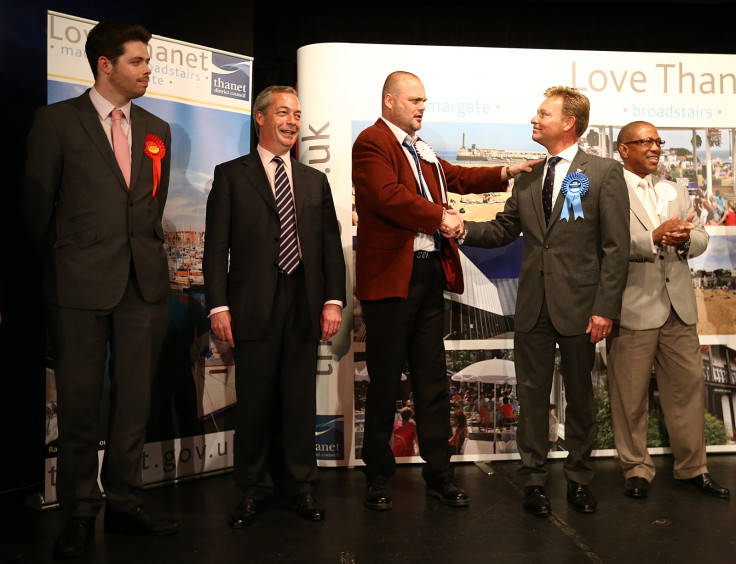 The pressure group Hope Not Hate has called on Kent Police to investigate claims that the former Ukip leader Nigel Farage exceeded his spending limits during the 2015 general election campaign.
The group allege that Farage's campaign failed to appropriately declare at least £26,302 in its electoral returns, and possibly well over £35,000.
Candidates standing in the South Thanet constituency could spend £15,087.30 in an election period between 9 April and May 7 2015.
The seat was eventually won by Conservative Craig Mackinlay, who beat Farage by just over 2,500 votes.
Mackinlay was himself questioned by Kent Police for six hours over alleged overspending in the campaign.
On Wednesday 15 March, several police forces forwarded their investigations into local spending by Conservative candidates to the CPS.
And earlier on Thursday (16 March), the Conservatives were fined £70,000 for breaching expenses rules.
Hope not Hate's investigation claim that "campaign staff, billboards and mobile ad-vans were omitted from Ukip's South Thanet electoral returns."
The group stated that there was a "clear abuse of Electoral Commission guidelines over campaign costs between Ukip candidates."
Nick Lowles, chief executive of Hope Not Hate, said: "Nigel Farage spent almost twice as much as he was allowed to in the 2015 General Election.
"Many campaign expenses, such as the cost of eight staff, were simply omitted from the expenses returns; other campaign items were inaccurately recorded in the long campaign rather than the short campaign, where spending limits are lower; and Ukip ignored Electoral Commission guidelines in dividing costs, leading to Farage sharing equally campaign costs with 65 local district and parish council candidates.
"With a police investigation underway into allegations that the Conservative Party overspent, it seems only appropriate that Nigel Farage is also investigated.
"The integrity of our electoral system is now under severe scrutiny. We cannot allow Nigel Farage and Ukip to get away with spending tens of thousands of pounds more than they were allowed to."
A spokesperson for Kent Police said: "While Kent Police take such allegations very seriously, the Representation of the Peoples Act 1983 allows a deadline of one year after the date the return was made in order to bring a prosecution or to apply for an extension to investigate such allegations.
"Therefore, Kent Police would not now be able to investigate the expenses return of Mr Farage for the legal reasons stated above."
Ukip has been approached for comment.
© Copyright IBTimes 2023. All rights reserved.